Hurricane Alicia - August 14-22, 1983

Hurricane Alicia ended a 3 year and 8 day "hurricane drought" for the continental United States,
which was the longest such period in the 20th century. The low that became Alicia formed from a
mesoscale convective system that developed on the tail end of a frontal zone just offshore the central
Gulf coast. The system moved around the southwest periphery of the subtropical ridge and intensified
at the rate of one millibar per hour into a tropical storm on the 15th and a hurricane on the 16th. As the
ridge moved eastward, Alicia turned northwest to the west of Galveston and Houston, Texas, striking the
Lone State State as a category 3 hurricane. Helping to break drought conditions across the southern
Plains, Alicia dropped moderate to heavy rains across portions of Texas and Oklahoma before its surface
circulation began to open up across the central Plains on the 20th. Below is the track of this cyclone,
constructed from data provided by the National Hurricane Center.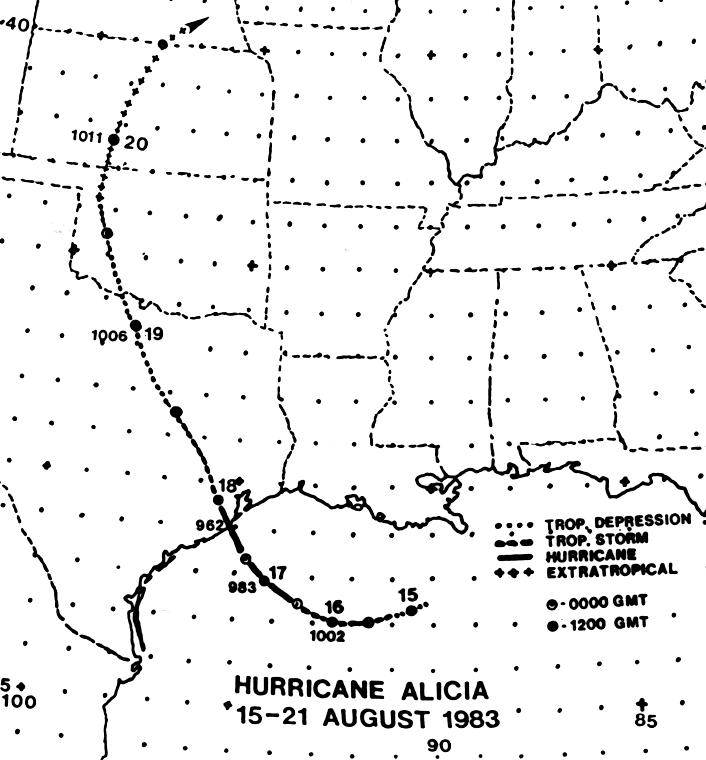 The graphics below show the storm total rainfall for Alicia. Note the maximum lies mainly to the east of the
cyclone's track.