Tropical Storm Allison - June 24-July 7, 1989

Three meteorological phenomena led to the formation of Allison: the remains of Pacific hurricane
Cosme, the northen portion of a tropical wave, and an upper high over the Gulf of Mexico. Cosme
moved northward across Mexico, steered north-northeast by a deep trough across the West/High
Plains. A blocking ridge built to its northeast, slowing down its forward movement as it entered
the Gulf of Mexico. Heavy thunderstorms rapidly developed across the northwest Gulf of Mexico
on the 22, and became more concentrated with time. At this time, Cosme's circulation was still
inland southwest of Brownsville, and a new low developed near the convection, and it became
Tropical Depression #2 by the afternoon of the 24th.


Becoming organized over the succeeding couple days, it strengthened into a tropical storm late
on the 25th, as verified by ship reports and later by reconnaisance aircraft. By the morning of
the 26th, the blocking ridge to its northeast eroded, and Allison acclerated northward into the
Texas coast near the north end of Matagorda Bay late on the morning of the 26th. After the
system which eroded the ridge moved out to the northeast, ridging redeveloped, blocking
Allison's movement as it approached Houston on the 27th. Over the next 2-3 days, Allison
transcribed an anticyclonic loop near Houston dumping prodigious rainfall as it drifted, befor
e moving off to the northeast into Louisiana late on the 30th.


Steered by deep southwesterly flow, Allison moved northeast into western Kentucky on the
2nd before the steering flow collapsed yet again. The low looped cyclonically near the 3 state
junction of Kentucky, Illinois, and Indiana until the morning of the 4th when it moved back
to the south into Alabama by evening. Moving back to the west, the remnants paralleled
the Gulf coast before dissipating as it passed northwest Louisiana late on the 6th. Its track
is below, provided by the National Hurricane Center.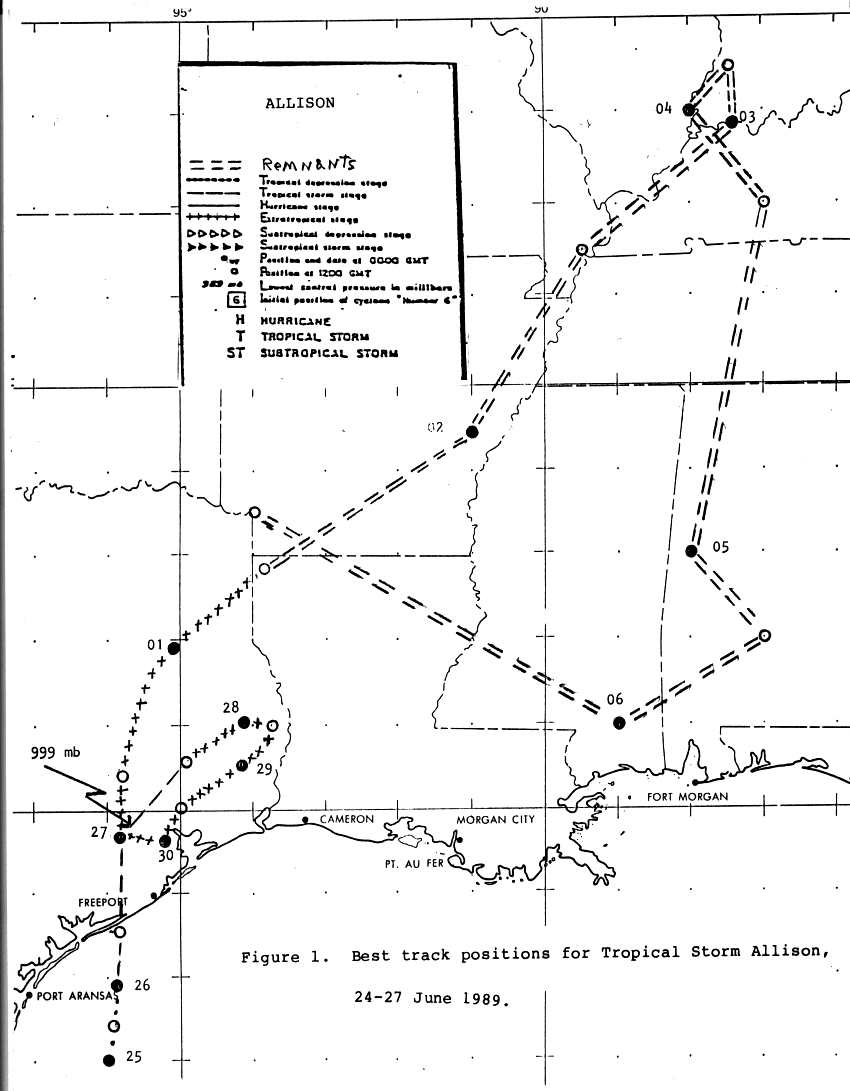 The graphics below show the storm total rainfall for Allison...data provided by the National
Climatic Data Center in Asheville, NC and the post storm report written by NHC.