Hurricane Allison - June 2-8, 1995
A tropical wave passed over the Windward Islands on 28 May. When the wave entered the western Caribbean Sea
on 1 June, it was accompanied by a broad mid-level cyclonic circulation. The system moved north-northwestward,
and gradually became better organized during the daylight hours of the 2nd. The first reconnaissance flight into
the area revealed that the system became a tropical depression late on the afternoon of the 2nd, centered 230 mi
east of Belize City.
Continuing on its north-northwestward heading, the cyclone strengthened into Tropical Storm Allison on the morning
of the 3rd. The intensifying storm turned northward, moving through the Yucatan Channel. The storm deepened
despite southwesterly upper-level shearing winds. In fact, by the morning of the 4th, Allison became a hurricane
over the southeast Gulf of Mexico, centered 240 mi west of Key West. The strengthening trend soon ceased
and Allison never developed beyond minimal hurricane intensity.
Moving northward near 15 knots, Allison headed for the Florida panhandle. Early on the 5th, as the system drew
nearer to the coast, it turned northeastward, and weakened slightly, in response to south-southwesterly vertical
shear and cool waters along the continental shelf. Allison weakened to a tropical storm around midnight on the 5th.
Landfall occurred at 10 am EDT on the coast of north Florida, near Alligator Point, and again (after a very brief time
over water) at 11 am EDT near Saint Marks. The storm weakened further as it headed inland to Georgia, but tropical
storm force winds persisted over Apalachee Bay until 5 pm on the 5th. Allison diminished to a tropical depression
over Georgia that evening.
Just after midnight on the 6th, the system interacted with a warm frontal zone to the northeast. Gale force winds
developed along the Georgia and South Carolina coasts as the cyclone's isobaric pattern expanded and the
pressure gradient increased well east of the low center. During the day on the 6th, the low moved northeastward
over the coastal plain of the Southeast, emerging into the Atlantic a little north of Cape Hatteras during the
evening of the 6th. The low, with an associated area of gale to storm force winds over its southeastern
semicircle, moved rapidly northeastward, skirting the eastern shore of Nova Scotia on the 8th, as it headed
for Newfoundland. After passing over Newfoundland on the 9th, the gale center turned northward, and then
north-northwestward, crossing the Arctic Circle to the west of Greenland on the 11th. Its track is below.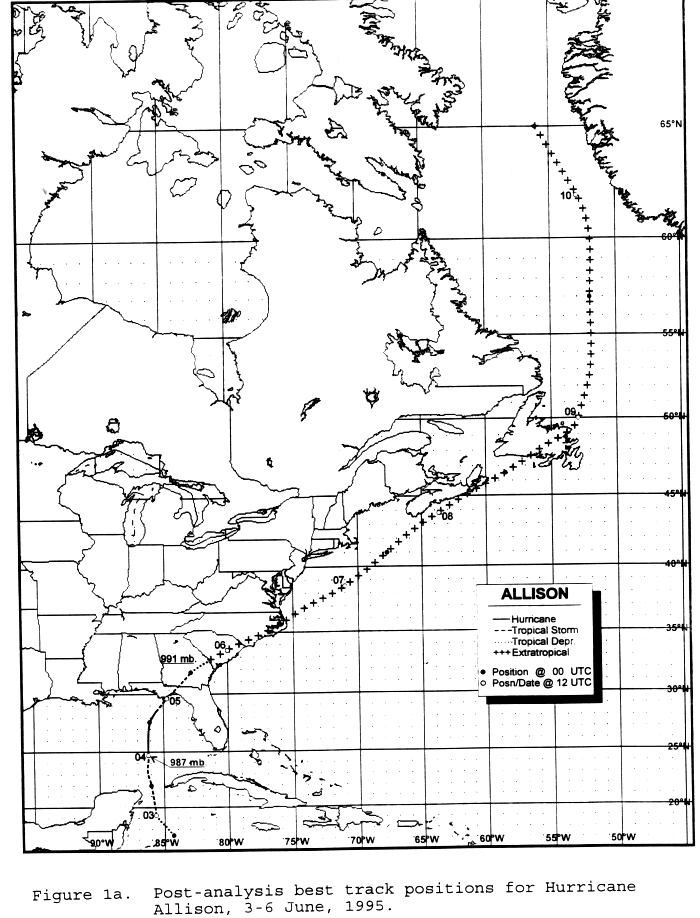 The graphics below show the storm total rainfall for Allison...data provided by the National Climatic Data Center
in Asheville, NC. Note the maxima along its track across the western Florida panhandle, central Georgia,
and eastern North Carolina before the center went out to sea.

Below is the calendar for Daily Precipitation Maps. Note that the 24-hour periods end
at 12z that morning.