Tropical Depression Ana - June 29-July 4, 1991
The incipient stage of Ana was as a low to mid level circulation 275 nm
east of Jacksonville on the morning of June 25th. It moved on an anti-
cyclonic path, developing a surface low on the morning of the 29th as it
tracked across the northern Bahamas. The low moved westward across
South Florida, went northward along the southwest coast, then northeast
towards St. Augustine by the evening of the 1st. Accelerating east-northeast
out into the Atlantic, the low became a tropical depression late on the 2nd,
then a tropical storm by late on the 3rd as it passed northwest of Bermuda.
Below is the track of this cyclone, provided by the National Hurricane
Center.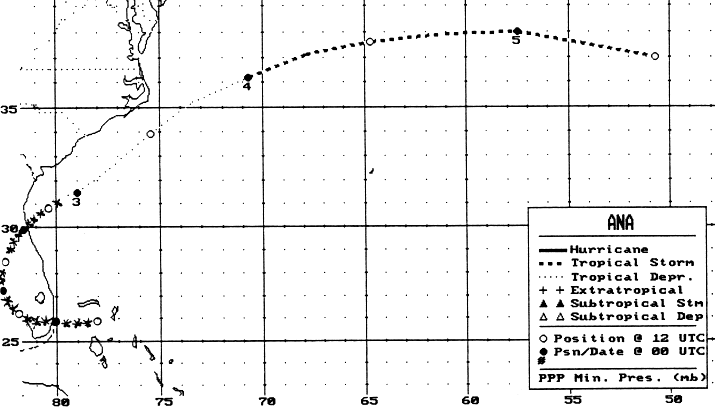 The graphics below show the storm total rainfall for Ana. Note the maximum
across southwest Florida, to the east of the track of the cyclone.

Below are the 24 hour rainfall totals valid at 12z...8 a.m. EDT...on that respective date.

| | | | | | | |
| --- | --- | --- | --- | --- | --- | --- |
| Sun. | Mon. | Tue. | Wed. | Thu. | Fri. | Sat. |
| | | | | | | 29 |
| 30 | 1 | 2 | 3 | | | |