Tropical Storm Barry - August 1-8, 2001
Barry formed from a tropical wave that moved westward from the coast of Africa on 24 July. The wave moved
westward across the tropical Atlantic with little development until the 28th, when convection increased just
east of the Lesser Antilles. The system moved into the Caribbean Sea on 29 July before convection increased
again on 30-31 July as the wave moved west-northwestward through the Caribbean. It moved into the southeastern
Gulf of Mexico on 1 August, accompanied by widespread heavy rains over southern Florida and western Cuba.
A broad 1014 mb low formed along the wave near Dry Tortugas, Florida late on 1 August. The low moved northwest
and intensified. An Air Force Reserve Hurricane Hunter aircraft reached the center just after noon on the 2nd and
found that the system had become Tropical Storm Barry. A large area of tropical storm winds existed north and east of
the center, primarily due to interaction with a strong surface ridge.
Southwesterly upper level flow moved the upper low moved northeastward while Barry moved west-northwestward
due to the ridge over the United States. The wind shear, combined with falling external surface pressures as the ridge
weakened, caused it to weaken to a depression early on 4 August. Barry turned northward and accelerated on the 5th.
Concentrated convection formed near the center leading to intensification. Barry neared hurricane strength prior to
landfall near Santa Rosa Beach, FL very early on the morning of the 6th.
The cyclone turned northwestward and weakened rapidly after landfall. It became a tropical depression over
southern Alabama later on the 6th and further weakened to a low pressure area near Memphis the next day.
The remnant low dissipated over southeastern Missouri on the 8th. Below is the track of Barry, furnished by the
National Hurricane Center.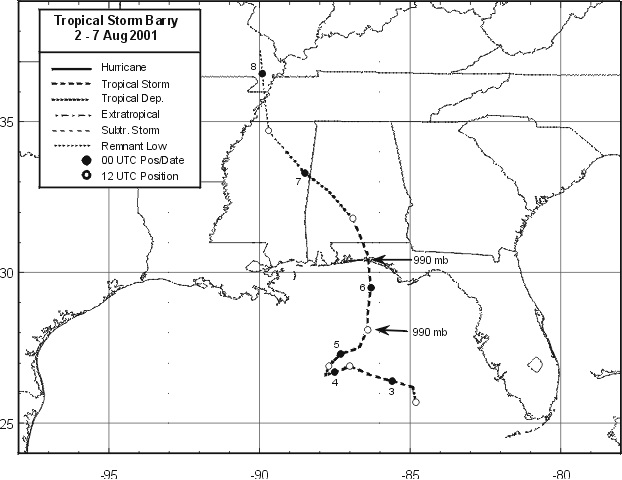 The storm total rainfall maps below were constructed using data from the National Climatic Data Center.

Below are the calendar for Daily Precipitation Maps. Note that the 24-hour periods end
at 12z that morning.
| | | | | | | |
| --- | --- | --- | --- | --- | --- | --- |
| Sun | Mon | Tue | Wed | Thu | Fri | Sat |
| | | | | 2 | 3 | 4 |
| 5 | 6 | 7 | 8 | | | |