Hurricane Betsy - September 6-13, 1965

On August 27th, reconnaissance aircraft found a tropical depression east of the Leeward Islands. By
late in the day the system strengthened into a tropical storm, as it moved west-northwest near 15 mph.
On the 28th, the cyclone moved along the length of the Lesser Antilles at nearly 20 mph while continuing
to strengthen. By the 29th, Betsy had become a hurricane 200 miles north-northeast of San Juan, Puerto
Rico as its motion began to slow. For the next couple days, the storm looped 275 miles north of Puerto
Rico and the system weakened back into a tropical storm. On the 1st, Betsy turned to the west and regained
hurricane strength. As it paralelled the Bahamas, major hurricane Betsy performed another loop on the 4th
to the east of northern Florida. A blocking high over the Eastern United States forced the hurricane down to
the southwest, towards Florida. On the 7th, the center of Betsy missed Nassau to the north, though its eyewall
swept by the island. During the night of the 8th and into the morning of the 9th, Betsy moved through the Upper
Keys as a large tropical cyclone. Its track below was supplied by the National Hurricane Center.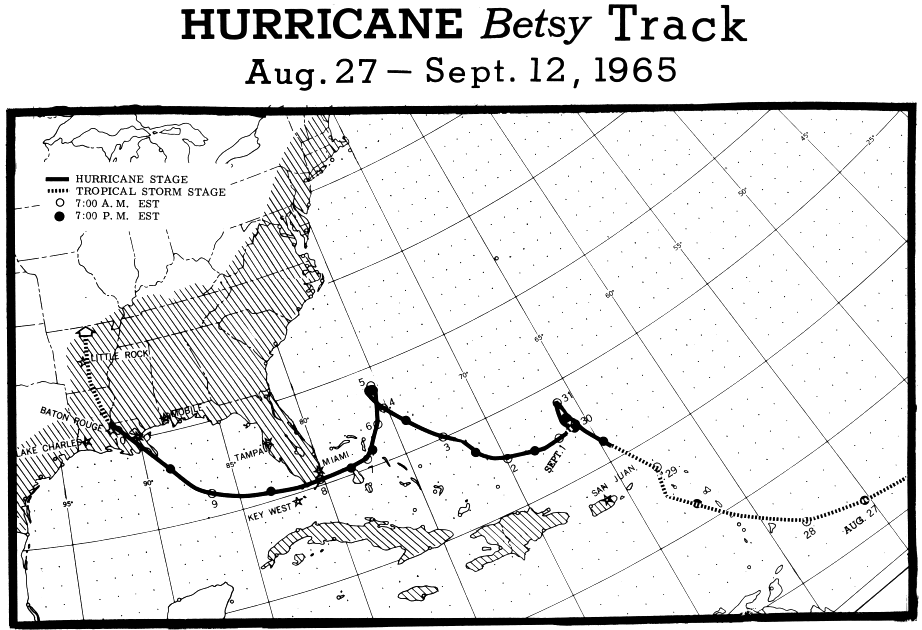 Speeding up as it moved through the Gulf of Mexico, Betsy struck southeast Louisiana on the night of the 9th and
remained a hurricane fairly far inland. Weakening into a tropical storm over northern Louisiana and then a tropical
depression by the time it approached Memphis, Tennessee, the cyclone spread moderate to heavy rains through
the Mississippi and Ohio River valleys, which shifted left of the storm's track as it transitioned into an extratropical
low. Its circulation could be followed into southern Ohio before dissipation. The graphics below show the storm
total rainfall for Betsy. Data was provided by the National Climatic Data Center in Asheville, North Carolina.



Below is the daily calendar of rainfall, with 24 hour amounts ending at 12z in the morning that day. Surface analyses
are from the start of the rainfall period (i.e. surface map from 17th at 12z will underlay the precipitation which
falls between the 17th and 18th at 12z). The time 12z corresponds to 8 am EDT, or 7 am CDT.

| | | | | | | |
| --- | --- | --- | --- | --- | --- | --- |
| Sun. | Mon. | Tue. | Wed. | Thu. | Fri. | Sat. |
| | | | 8 | 9 | 10 | 11 |
| 12 | 13 | | | | | |