Tropical Storm Blanca - June 7-12, 1997
As Tropical Storm Andres neared the coast of El Salvador, an area of strong low level flow developed
west of the 100th meridian. A tropical disturbance developed within the Gulf of Tehuantepec, which
organized into Tropical Depression 2E on June 9th. Quickly organizing into a tropical storm, Blanca
moved west-northwest offshore the coast of southern Mexico. Reaching its peak intensity late on the
10th, the system weakened thereafter, losing its closed circulation center by the morning of the 12th.
Below is the track for Blanca, courtesy of the National Hurricane Center.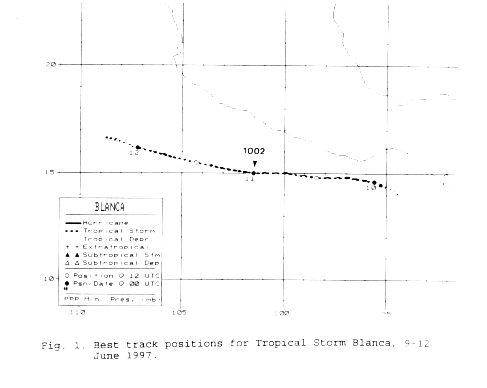 The graphics below show the storm total rainfall for Blanca. Rainfall data was provided by the Comision
Nacional del Agua, the parent agency of Mexico's National Weather Service.