Hurricane Bob - July 9-16, 1979

The tropical wave that spawned this tropical cyclone was detected near the Cape Verde Island during the last
week of June. The wave moved westward with no sign of development until reaching the northwest Caribbean
on July 6th. After emerging from the Yucatan Peninsula on the 7th, a weak circulation formed on the 8th and
convection organized sufficiently to become a tropical depression by the 9th. Turning to the northeast ahead of
a deep trough to its west on the morning of the 10th, Bob organized into a tropical storm 400 miles south of
Louisiana. By late afternoon it became a hurricane, which then moved into southeast Louisiana early on the
11th. The system moved north-northeast up the Mississippi Valley and curved through the Ohio Valley,
eventually drifting southeast through the Mid-Atlantic and becoming absorbed by another cyclone in
the western Atlantic ocean. Below is the track of this cyclone, prepared by the National Hurricane Center.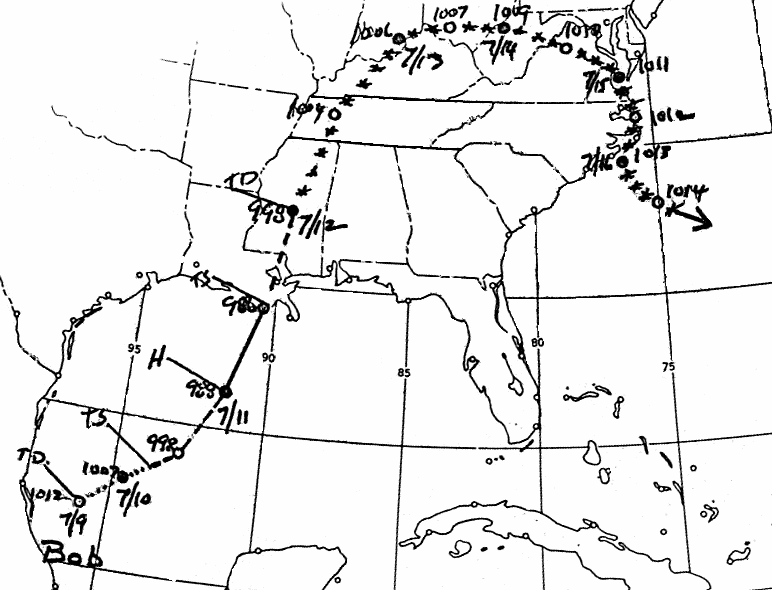 The graphics below the storm total rainfall for Bob. Note the maxima lie
initially near and to the right of the cyclone's track, before shifting left of track in the Lower Ohio Valley.