Tropical Storm Carlos - June 25-28, 2003

A tropical wave moved off the coast of Africa on June 14th. The wave moved through the tropical Atlantic as a very
weak system. After moving into the eastern Pacific, a tropical disturbance formed south of the Gulf of Tehuantepec.
It drifted northwest, becoming a tropical depression early on the 26th and a tropical storm later that morning. Erratically
drifting north, it developed an eye-like feature as it made landfall 90 miles southwest of Puerto Angel. The cyclone
weakened as it moved just inland of the coast, emerging back into the eastern Pacific as a tropical depression on the
27th. Moving slowly to the west-southwest, the system ultimately dissipated on the 29th. Below is its track, provided
by the National Hurricane Center.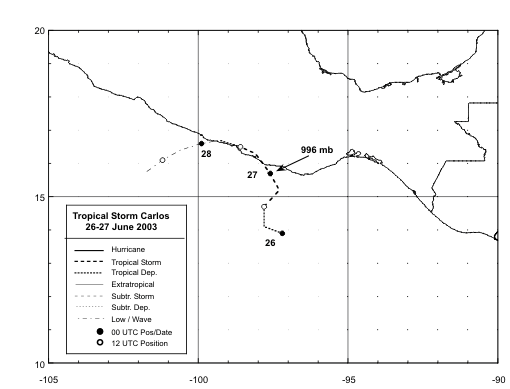 The storm total graphics for this cyclone are below. Rainfall data was supplied by Miguel Cortez of the Comision
Nacional del Agua, parent agency of Mexico's National Weather Service.