Tropical Storm Charley - August 20-29, 1998
A large swirl of low clouds left the coast of Africa on the 9th, and westward through the tropical
Atlantic. On the 15th, a small area of deep convection developed with the system a few hundred
miles northeast of the Leeward Islands. Moving north of due west, the convection flared diurnally
until the 19th. By then, the cyclonic circulation had moved into the southeastern Gulf of Mexico. On
the morning of the 21st, reconnaisance aircraft were able to close off a low level circulation, which
initiated advisories on the tropical depression. Tropical storm force was reached by afternoon.
By early on the 22nd, Charley was at the threshold of hurricane strength, which is when it peaked
in intensity. The center crossed the Texas coast near Port Aransas during the early morning hours
of the 22nd. Weakening after landfall, the low level circulation dissipated near Del Rio early on
the 24th. However, its circulation aloft produced heavy rains near Del Rio from the 23rd until
late on the 25th, when it finally moved into northeast Mexico and lost its surface circulation. Its
circulation aloft moved across northern Mexico and into southern Arizona before dissipating on
the 29th. Below is the track of Charley, prepared by the National Hurricane Center.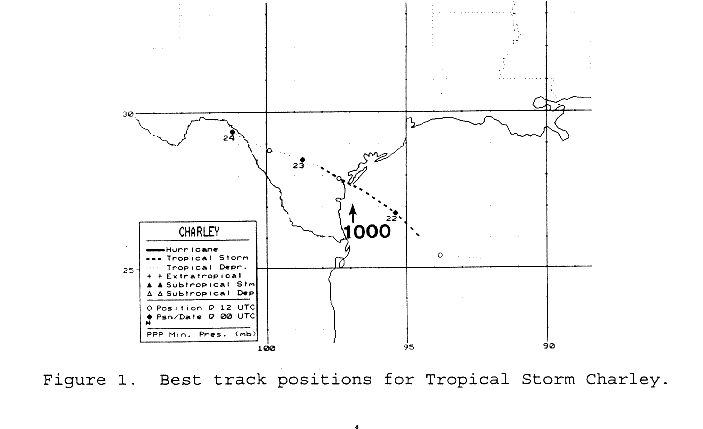 Below is the storm total rainfall map for Charley. Note the maximum in the initial inflow band across
southeast Louisiana, while the major maximum is located well inland of the point of landfall near Del
Rio. Data used to construct the storm total map was gathered from the National Climatic Data Center
for the United States, and from the Comision Nacional del Agua for Mexico.
Below is the calendar for Daily Precipitation Maps. Note that the 24-hour periods end
at 12z that morning.