Tropical Storm Cindy - August 15-17, 1993
A tropical wave moved offshore the African coast on August 8th. The system moved west-northwest
briskly across the tropical Atlantic. By the 10th, the system became somewhat better organized, though
its organization leveled off over the next few days. By the 14th, the area of disturbed weather had developed
a better organized low-level circulation, becoming a tropical depression. The system continued to the west-
northwest, becoming a tropical storm as it moved across Martinique into the Caribbean sea. Moving south
of Puerto Rico, Cindy made landfall across Hispaniola on the 16th, weakening into a tropical depression. Its
surface circulation was completely disrupted by the mountainous island, and remnant cloudiness and showers
moved into the southern Bahamas by the 18th. The track of Cindy is below, and it was provided by the National
Hurricane Center.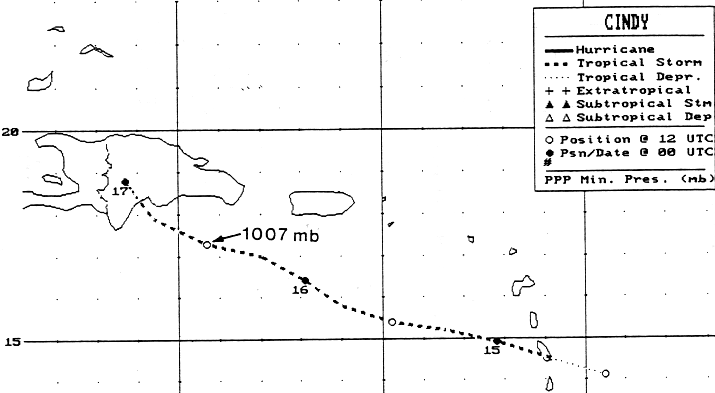 On the graphic below is the storm total rainfall for Cindy.