Hurricane Dennis - August 15-20, 1981
The tropical wave that evolved into Dennis was well-organized as it emerged off the coast of
Africa on the 5th. By the 7th, a tropical depression formed from this wave which was quickly
upgraded to a tropical storm in the eastern Atlantic. As Dennis approached the Caribbean Sea,
upper level westerly shear weakened the tropical storm into a tropical depression on the 11th,
ultimately devolving into a tropical wave by the 12th.

The tropical wave moved westward before stalling south of Cuba. Dennis regained tropical
depression and storm status on the 15th near the south coast of central Cuba. Dennis slowly
moved towards South Florida on the 16th and 17th while strengthening. The system edged
through South and Central Florida on the 18th and 19th, bringing heavy rains to the east of
its path which ended their spring/early summer drought. It moved offshore Cape Canaveral
on the 19th, skirted the coast of the Carolinas, and briefly attained hurricane strength before
becoming extratropical on the 22nd. Below is the track of this cyclone, provided by the
National Hurricane Center.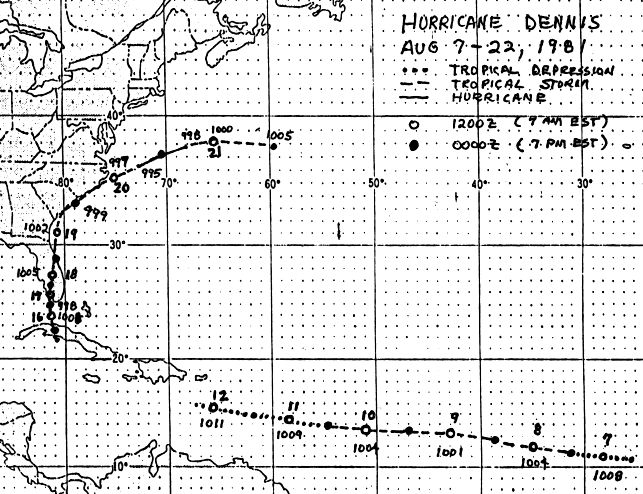 On the graphic below is the storm total rainfall for Dennis. Note the maximum rainfall fell
east of the track of the cyclone in Florida, and west of its track in the Carolinas.