Hurricane Dolly - August 19-27, 1996

A tropical wave moved offshore western Africa on August 9 and across the tropical Atlantic and Caribbean
through the 18th. Development did not begin until the wave reached the Caribbean, when deep convection
developed near the wave axis. Thunderstorm activity did not become concentrated until the wave moved
south to southwest of Jamaica on the 18th. Late that day, the system evolved into a tropical depression and
just after midnight became a tropical storm. Moving to the south of the subtropical ridge, Dolly struck northeast
of Chetumal as a minor hurricane. Weakening back into a tropical depression over southeast Mexico, Dolly
regained tropical storm strength late on the 21st and hurricane strength on the 23th as it made landfall midway
between Tampico and Tuxpan. Weakening quickly into a tropical depression, Dolly's surface circulation
dissipated in the eastern Pacific, though its cloud pattern moved northwest along the west coast of Mexico
into the 27th. Below is its track, supplied by the National Hurricane Center.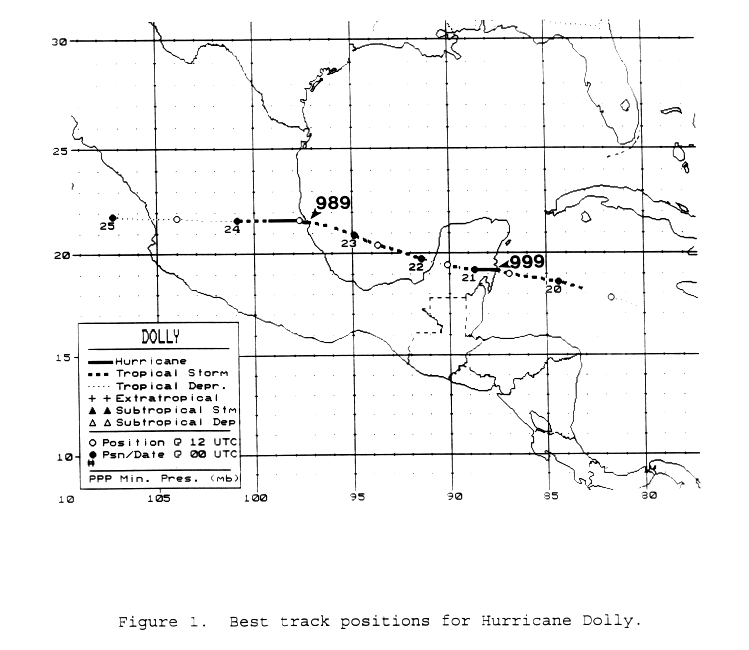 The graphics below show the storm total rainfall for Dolly, which used information from the Comision del
Agua, parent agency of Mexico's National Weather Service.