Hurricane Edith - September 24-28, 1963
A combination of ship reports and satellite imagery led to the first signs of Edith to the east of the Windward
Islands as a tropical depression. Early on the 24th, reconnaissance aircraft found winds of tropical storm force
just east of the Lesser Antilles. By noon, Edith developed into a hurricane. The cyclone moved west-northwest
across St. Lucia early on the 25th and into the Caribbean Sea. The combination of a frontal wave moving east-
northeast from Florida into the southwest Atlantic and an upper level low caused Edith to move north towards the
Greater Antilles and weaken. High pressure building in behind the wave led to a turn towards the west in the
direction of Hispaniola, which led to substantial weakening. By the 27th, Edith emerged from the Dominican
Republic as a tropical storm as it continued northwest into the subtropical Atlantic. The cyclone continued
weakening and became a tropical depression while recurving away from the Bahamas, dissipating by the 29th.
The graphic below shows most of Edith's track, and was created by the San Juan Hurricane Warning Office.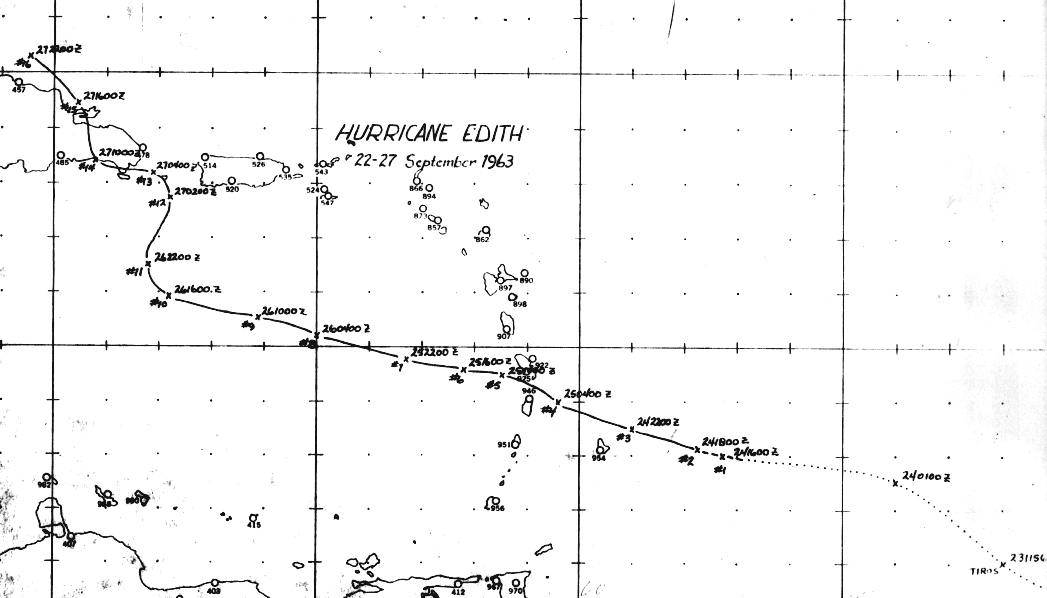 The rainfall graphic below uses data supplied by the National Climatic Data Center in Asheville, NC. The cyclone
tracked southwest of Puerto Rico and the U.S. Virgin Islands, leading to the highest amounts falling across
southwest portions of Puerto Rico.