Tropical Storm Edouard - September 1-6, 2002
This cyclone originated east-southeast of Bermuda on August 25, and drifted west-southwest. As it approached
the northern Bahamas it became better organized, and a tropical depression had formed by noon on the 1st. Despite
persistent west-northwest shear, the system reached tropical storm intensity from early on the 2nd to late on the 4th
before finally degenerating into a tropical depression. It crossed Florida, and then moved west-northwest around the
circulation of Tropical Storm Fay to the west. Its remnant moved into southern Alabama/Mississippi as an inflow band
of Fay late on the 6th/early on the 7th...and this rainfall has been attributed to Fay due to its proximity to the cyclone
and is included in Fay's storm total map. Below is the track of Edouard, furnished by the National Hurricane Center.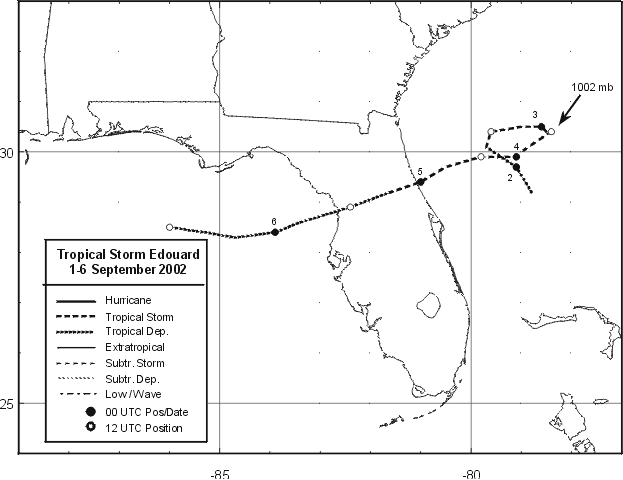 The storm total rainfall maps below were constructed using data from the National Climatic Data Center
and Southwest Florida Water Management District.

Below are the calendar for Daily Precipitation Maps. Note that the 24-hour periods end
at 12z that morning.
| | | | | | | |
| --- | --- | --- | --- | --- | --- | --- |
| Sun | Mon | Tue | Wed | Thu | Fri | Sat |
| | 2 | 3 | 4 | 5 | 6 | |