Tropical Storm Fabian - October 13-16, 1991
Fabian's development was typical for October. A tropical wave interacted with the tail end of a
frontal zone in the Gulf of Honduras on the 13th. Pressures began to fall as convection increased
across the region. Upper ridging developed over the system, and the system organized. When a
reconnaisance aircraft arrived on the scene on the morning of the 15th, they found a tropical storm
southwest of the Isle of Youth, Cuba. Squalls and tropical storm force winds remained restricted
to the east side of the cyclone. Fabian started to accelerate east-northeast across western Cuba and
the Florida Straits, where maximum sustained winds increased to 45 mph. By the afternoon of the
16th, Fabian had become a frontal wave well offshore Jacksonville, to the north of the Bahamas.
Its track lies below, courtesy of the National Hurricane Center.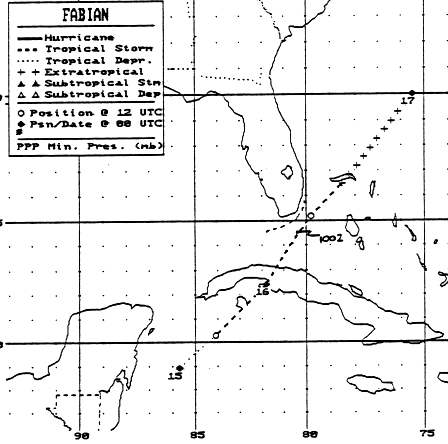 The graphics below show the storm total rainfall for Fabian...data provided by the National
Climatic Data Center in Asheville, NC.