Tropical Storm Florence - September 19-27, 1960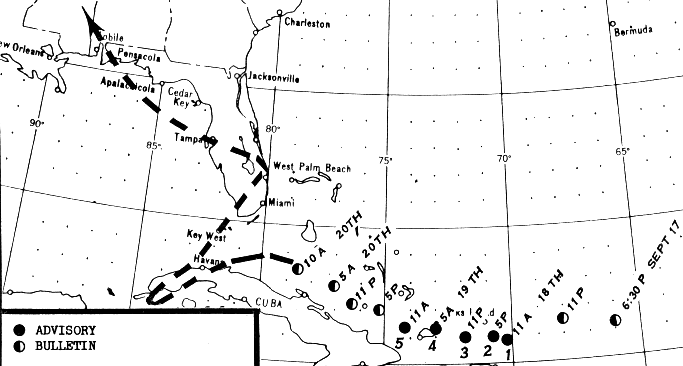 The initial circulation for Florence formed in response to a tropical wave moving north of Puerto Rico on September 17th.
The system intensified into a tropical storm as it moved westward. Hostile upper level conditions caused weakening on the
19th, which degenerated Florence back into a tropical depression. Thereafter, the system moved through the Florida Straits
and Cuba, before recurving into southern Florida on the 23rd and 24th. Heavy rains fell across the Gold and Treasure coasts
of the Sunshine State. The depression turned west-northwest, moving out into the Gulf of Mexico before making its final
landfall between Pensacola and Movile on the 26th and 27th. Florence's track lies above, courtesy of the National Hurricane
Center. The rainfall graphics below for Florence used data supplied by the National Climatic Data Center in Asheville, North
Carolina.