Hurricane Flossie - August 22-30, 2001

A same tropical wave which spawned Tropical Storm Chantal led to the development of Flossie.
While Chantal was stalling near Chetumal, the wave continued progressing westward into the eastern
Pacific, spawning a new tropical disturbance. The disturbance tracked close to the Mexico coastline,
and a surface circulation formed on August 23. Convective bands around the system moved into
Manzanillo and also into northeast Mexico, where rainfall was enhanced by a nearby upper cyclone,
likely a product of Flossie's outflow jet. By the evening of the 25th, the circulation of this surface
low moved far enough away from Mexico so it could develop, and a tropical depression formed late
that night, with tropical storm formation occuring on the 26th about 195 miles south of the tip of Baja
California. The system slowed down its westward motion due to interaction with a nearby upper
cyclone.

Once the upper low lifted out to the northeast, Flossie strengthened into a hurricane on the 28th,
and the cyclone turned northwest due to an approaching mid-latitude trough. Recurvature continued,
and a combination of vertical wind shear and cooler waters led to Flossie's degeneration into a tropical
storm on the 31st and tropical depression on the 1st. While the surface circulation dissipated later that
day, a nearby upper cyclone wrapped up some of Flossie's moisture and moved across northwest Mexico
and the Desert Southwest United States to cause flash flooding during the first few days of September.
Below is its track, supplied by the National Hurricane Center.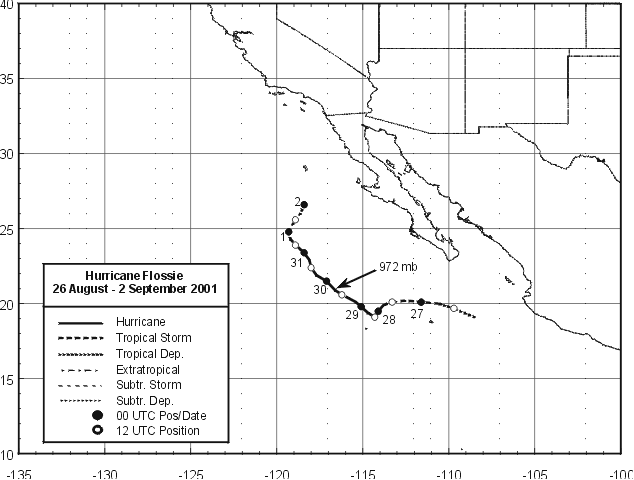 The graphics below show the storm total rainfall for Flossie, which used information from the Comision del
Agua, which is the parent agency of Mexico's National Weather Service.