Tropical Storm Gabrielle - August 9-14, 1995

A tropical wave swept past the coast of Africa on July 27th, moving westward for the next 12 days across the
Atlantic Ocean and Caribbean Sea, reaching the western Gulf of Mexico on the 8th. Aircraft flew into the system
on the 10th, and found a tropical depression. It drifted westward towards the Mexican coast, hampered by Hurricane
Flossie in the eastern Pacific. Spiral bands around its northern edge into southern Texas, with all precipitation
moving out of the scene by the 14th as its mid-level circulation moved westward through central Mexico, curved
northward through the Gulf of California before shearing inland into northwest Mexico east of an upper level cyclone
on the 15th. Below is the track of Gabrielle, furnished by the National Hurricane Center.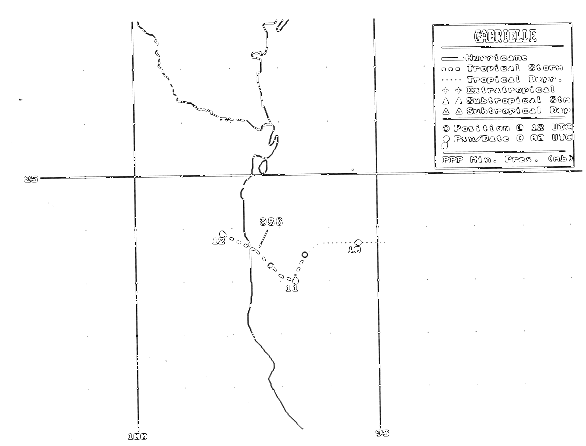 The storm total rainfall maps below were constructed using data from the National Climatic Data Center, and
from the Comision Nacional del Agua, parent agency of Mexico's National Weather Service.

Below are the calendar for Daily Precipitation Maps. Note that the 24-hour periods end
at 12z that morning.
| | | | | | | |
| --- | --- | --- | --- | --- | --- | --- |
| Sun | Mon | Tue | Wed | Thu | Fri | Sat |
| | | | | | 11 | 12 |
| 13 | | | | | | |