Hurricane Gert/T.D. #14E - September 14-28, 1993

A tropical wave moved off the west coast of Africa on September 5 south of Dakar. Moving rapidly westward
across the Atlantic without development, the system began to show some organization as it neared the Windward
Islands. A weak surface low passed Trinidad on the 11th, and moved across northern South America. Emerging
into the southwest Caribbean Sea on the 13th, the system developed into a tropical depression on the 14th with a
large circulation. Becoming a tropical storm on the 15th, Gert moved across Nicaragua weakening back into a
tropical depression which moved across Honduras and back out into the northwest Caribbean Sea. Quickly
becoming a tropical storm once more, the cyclone moved north-northwest into Belize, and then west-northwest
across the Yucatan peninsula into the Gulf of Mexico as a tropical depression.

On the 19th, Gert redeveloped into a tropical storm in the morning and into a hurricane that evening as its motion
slowed to the west. As a category two hurricane, Gert made landfall at Tuxpan during the afternoon of the 20th
and weakened back into a tropical storm and tropical depression on the 21st as it moved quicker across Mexico.
By that evening, the system emerged over the eastern Pacific ocean, redesignated at Tropical Depression 14E.
Moving west to west-northwest, it nearly became a tropical storm again by the 23rd. On the 24th, cool waters
led to dissipation of its central convection, and the system moved southwest as a low-level swirl thereafter,
becoming a remnant low by the 26th. Below is the Atlantic portion of Gert's track, supplied by the
National Hurricane Center.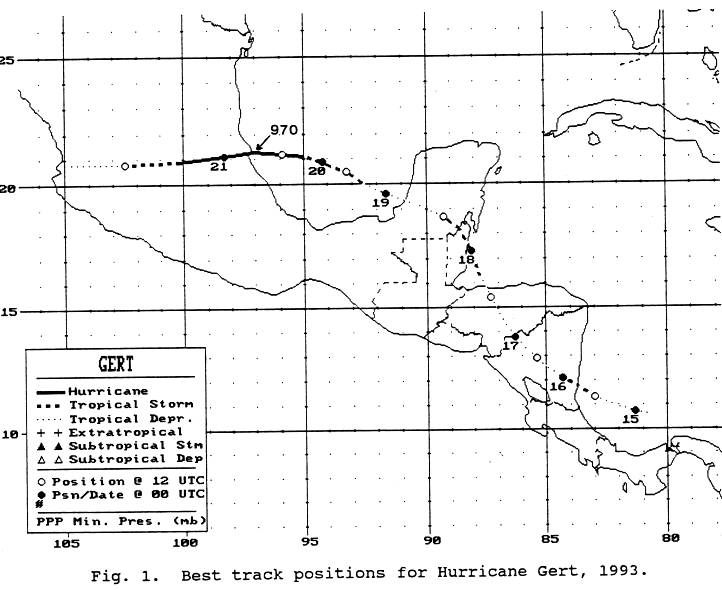 Below are the maps of the storm total rainfall related to Gert in Mexico, constructed using data from the
Comision Nacional del Agua, part of Mexico's National Weather Service.