Hurricane Gilbert - September 14-21, 1988
On September 3rd, a westward moving tropical wave showing no signs of organization emerged
off the northwest African coast into the North Atlantic. Over the next several days, a broad area
of low pressure formed whose circulation extended nearly to the equator. An organized center
was not evident until it approached the Windward Islands on the 8th. By the 9th, it had developed
into the 12th tropical depression of the season 400 miles east of Barbados.

The depression moved west-northwest at 17 mph, reaching tropical storm strength over the
Lesser Antilles on the afternoon of the 9th. Rapid strengthening ensued on the 10th, bringing
Gilbert to hurricane-force that evening. The system continued its trek west-northwest, passing
over Jamaica as a major hurricane on the 12th. After it emerged into the northwest Caribbean
Sea, Gilbert rapidly intensified into a category 5 hurricane, with recon reports ranging between
882-885 hPa for the hurricane's surface pressure on the afternoon of the 13th. It moved into the
Yucatan peninsula, becoming the first category 5 hurricane to make landfall in the Atlantic Basin
since Camille in 1969.

Gilbert tracked west-northwest through the Gulf of Mexico as a category 3 hurricane, making its
final landfall in northeast Mexico just north of La Pesca on the afternoon of the 16th. As the
weakening system moved across Texas and Oklahoma, heavy rains fell along its path, as it
accelerated northeast thru the Mid-Mississippi Valley into the Great Lakes late on the 19th/
early on the 20th. Below is the track of this cyclone, provided by the National Hurricane
Center.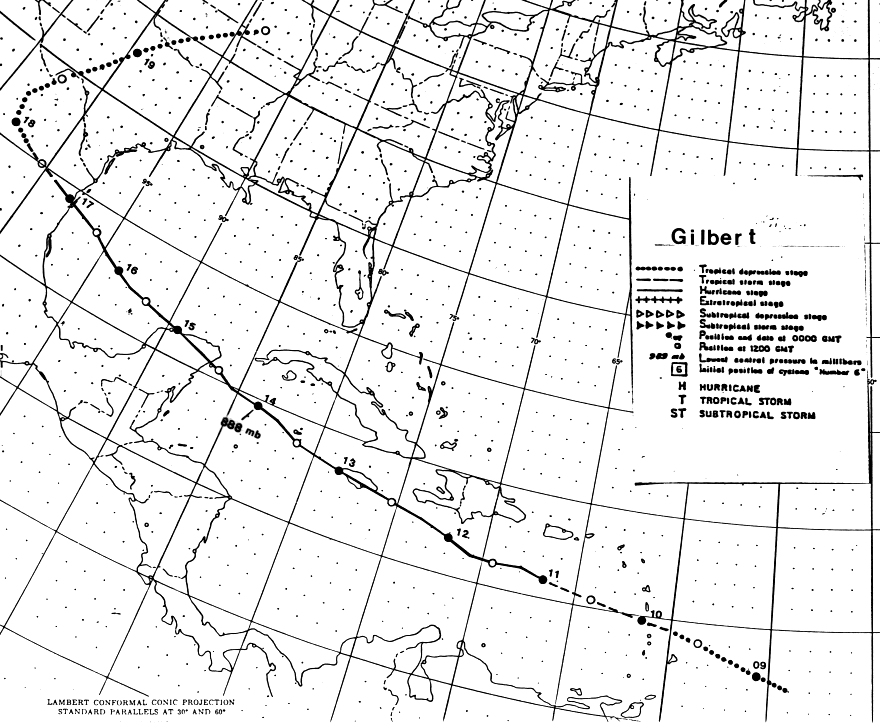 The graphics below show the storm total rainfall for Gilbert. Note the maxima along and just to the left/west
of the track of the cyclone.

| | | |
| --- | --- | --- |
| | | |