Tropical Storm Gordon - September 13-21, 2000
A tropical disturbance was slow to develop in the western Caribbean during mid-September.
Reconnaisance aircraft finally was able to close off a surface circulation during the morning of
the 14th, while the system was just off the coast of the Yucatan peninsula. After drifting northwest
towards the Gulf of Mexico, the system began moving northeast in response to a digging upper
trough moving into the northern Gulf. It intensified steadily, reaching tropical storm force during
the evening of the 15th, and hurricane intensity by evening on the 16th. By the morning of the
17th, and upper low developed just southwest of the center, exposing the low level center and
transitioning the cyclone into a subtropical stage. A dry slot wrapped around its southeast side,
but the low had barely weakened before landfall around Cedar Key overnight on the 17th. The
cyclone quickly linked up with a front and became extratropical, moving in an arcing track through
the East around the western periphery of the subtropical ridge in the western Atlantic. It exited
the coast near Boston on the morning of the 20th, and moved out to sea. The track of the storm
is located below, provided by the National Hurricane Center.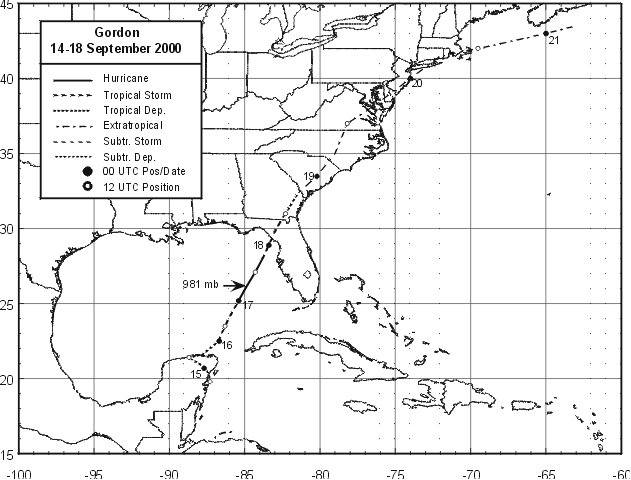 The graphic below show the storm total rainfall for Gordon. Note the maxima along
the Yucatan Peninsula, western Florida coast, the southern coast of North Carolina, and
in southeast Pennsylvania. Rainfall data for the United States was provided by the National
Climatic Data Center in Asheville, North Carolina, and rainfall data from Mexico was provided
by the Comision Nacional del Agua, the parent agency of Mexico's National Weather Service.

Below is the calendar for Daily Precipitation Maps. Note that the 24-hour periods end
at 12z that morning.