Tropical Storm Helene - September 19-24, 2000
A perisistant tropical wave....the remains of Tropical Depression #12...moved through the Caribbean
during mid-September. Reconnaisance aircraft finally was able to close off a surface circulation during
the morning of the 19th, while the system was just west of Jamaica. It moved around the western side
of the subtropical ridge. slowly intensifying into a tropical storm by the morning of the 15th. Persistent
upper level winds kept the cyclone in a shearing environment, and it never strengthened into a hurricane.
By the morning of the 22nd, the center made near Fort Walton Beach in the Florida panhandle. The
cyclone quickly linked up with a front and became extratropical by evening. As it exited the coast near
Cape Hatteras on the 23rd, it shed its frontal structure and became a nasty subtropical storm off New
England. The track of the storm is located below, provided by the National Hurricane Center.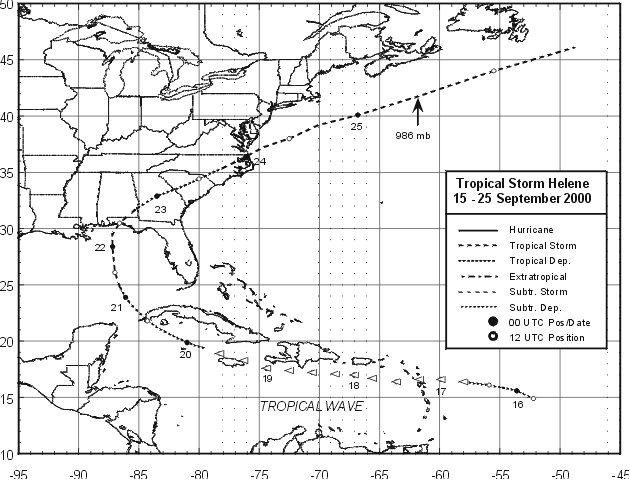 The graphics below the storm total rainfall for Helene. Note the maxima well east of the
center along the western Florida panhandle and in southern South Carolina, each coinciding
to where the center passed during the early morning hours.

Below is the calendar for Daily Precipitation Maps. Note that the 24-hour periods end
at 12z that morning.