Hurricane Hernan - September 27-October 6, 1996
A tropical wave moved offshore western Africa in mid-September, and moved westward through
the tropical Atlantic. Thunderstorm activity increased near the Lesser Antilles on September 22,
then again between the 25th and 27th as it moved through the western Caribbean sea and Central
America. On the 28th, convection became more concentrated in the Gulf of Tehuantepec. The
system organized into a tropical depression, then tropical storm, south of Acapulco on the 30th.
Hernan turned towards the north on October 1 due to a reformation of the center. Turning back
to the northwest on the 2nd, Hernan strengthened into a hurricane. A deep mid to upper level
trough over the western United States turned Hernan back to the north, with its center passing
east of Puerto Vallarta on the 3rd. Drifting northward, Hernan dissipated as a tropical cyclone
late on the 4th, and its resulted cloud pattern remained north of Puerto Vallarta into the 6th.
Its track lies below, supplied by the National Hurricane Center.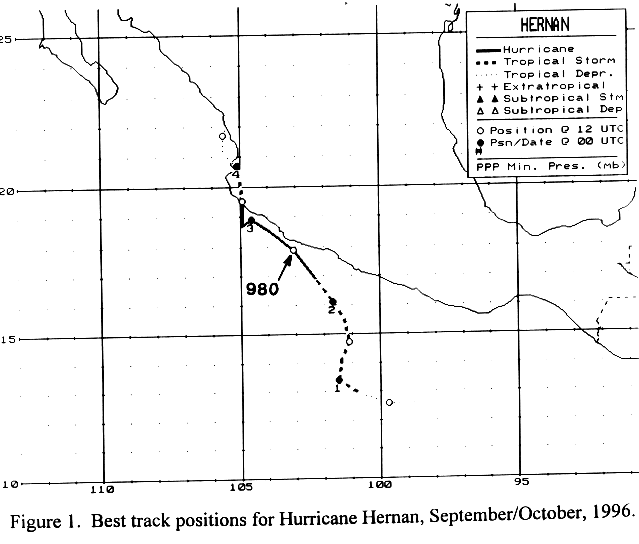 The storm total map is shown below. Rainfall information was provided by the Comision
Nacional del Agua, the parent agency of Mexico's national weather service. Much of the rainfall
fell near and east of its point of landfall, with a secondary maximum falling well in advance of
the hurricane along a frontal boundary to its northeast.