Hurricane Hilary - September 18-23, 1999



Hilary originated from a tropical wave that moved from west Africa to the Atlantic on August 29th. It was
a weak wave with minimal thunderstorm acitivty as it moved across the tropical Atlantic and the Caribbean.
The wave acquired some organized convection on the 10th and 11th of September over Central America.
Visible satellite imagery on the 17th showed a low-level circulation, along with organized deep convection,
and a tropical depression formed later that day about 475 miles south-southeast of the southern tip of Baja
California, Mexico.


The depression was upgraded to a tropical storm on the 18th, based on the low-level center becoming located
under deep convection. Hilary moved west-northwestward during this time as it slowly strengthened. A deepening
mid- to upper-level trough approached Hilary from the northwest and the motion turned sharply to the north-northwest
late on the 19th. A banding-type eye feature, increased symmetry, and an enlarging of deep convection were the
bases for upgrading Hilary to a minimal hurricane early on the 20th some 200 miles southwest of the southern
tip of Baja California. Later that day, the low-level center became exposed to the south of the deep convection
and Hilary weakened to a tropical storm. The cyclone moved over cool water and weakening continued. Hilary was
reduced to a swirl of low clouds, devoid of deep convection on the 21st. Below is its track, supplied by the National
Hurricane Center.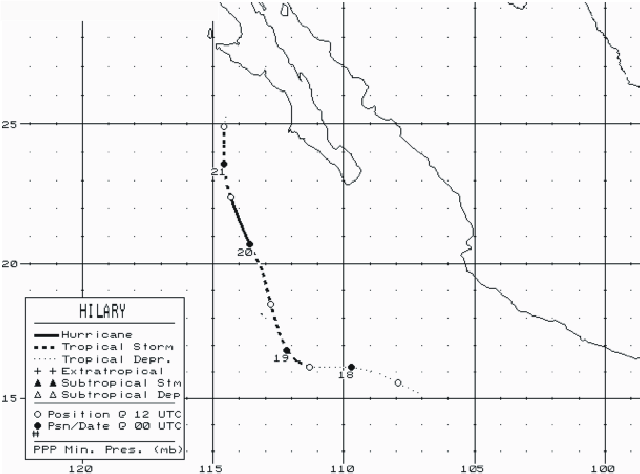 The graphics below show the storm total rainfall for Hilary, which used information from the Comision del
Agua, which is the parent agency of Mexico's National Weather Service.