Tropical Storm Irwin - October 7-10, 1999
A slow-moving tropical wave crossed over Central America and eastern Mexico between the 1st and 3rd
of October, spawning Tropical Depression Eleven over the southwest Gulf of Mexico on the 4th. The southern
portion of the wave produced an area of disturbed weather over the Pacific waters in the vicinity of Acapulco,
Mexico early on the 5th. For the next couple of days, the system was strongly sheared from the east and lacked
enough organized deep convection to be classified as a tropical depression. Early on the 8th, deep convection became
better organized around a low-level center, and Tropical Depression Fourteen-E developed that morning 125 miles
south-southwest of Manzanillo, Mexico.
Initially the cyclone moved slowly north-northwestward and strengthened into a tropical storm 100 miles south-
southwest of Manzanillo later on the 8th. A strong mid-tropospheric ridge developed over northern Mexico and
this feature steered Irwin northwest, away from the coast of mainland Mexico. However, the center of the storm
came within about 75 miles of the coastline between Manzanillo and Cabo Corrientes early on the 9th. Later that day,
Irwin turned toward the west-northwest and, in the presence of moderate east-northeasterly shear, the storm
intensified to its peak strength of 50 knots by late on the morning of the 9th.
Early on the 10th, the ridge to Irwin's north forced it on a westward course, and northeasterly shear combined
with more stable air began to take its toll on the tropical cyclone. Later that day, Irwin turned toward the west-
southwest and the center of the weakening cyclone passed over Socorro Island. By that time, essentially all
deep convection associated with Irwin was gone, and the system's winds diminished below storm strength. The
cyclone dissipated early on 11th about 350 miles southwest of Cabo San Lucas. Below lies its track, supplied
by the National Hurricane Center.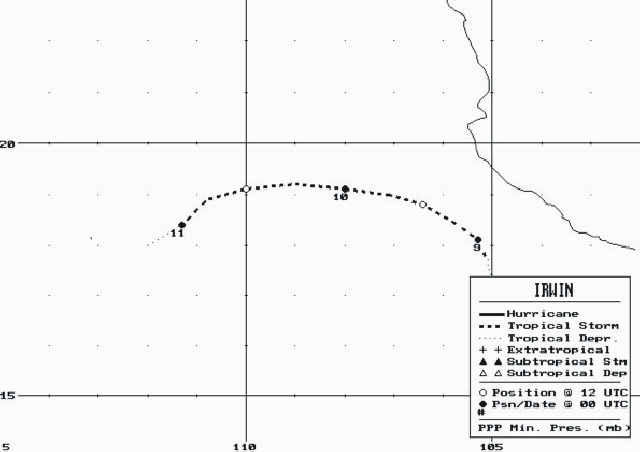 The graphics below show the storm total rainfall for Irwin, which used information from the Comision del
Agua, which is the parent agency of Mexico's National Weather Service.