Tropical Storm Iselle - September 16-20, 2002
A tropical wave moved off the west coast of Africa on August 31st with well organized deep convection.
The wave weakened as it moved deeper into the Atlantic, losing its thunderstorm activity by September
4th. Southwest shear kept development at bay over the main wave axis, though the northern portion
of the wave broke off to spawn Tropical Depression #7 in the Atlantic on the 7th. The southern portion
kept moving west, eventually crossing northern South America and Panama, emerging into the Pacific
ocean on the 10th. The system moved at a fast clip until the 13th, when southwest low-level winds
slowed its progress. Thunderstorm development ensued and a low level circulation formed. By the
morning of the 15th, the low became well enough organized to become a tropical depression. Iselle
became a tropical storm that evening 250 miles southwest of Manzanillo. The cyclone moved west-
northwest and became a strong tropical storm on the 17th about 360 miles west-southwest of Cabo
San Lucas. A mid-level low began to affect Iselle, causing it to weaken as it turned northeast
towards Baja California. It became a tropical depression on the afternoon of the 19th only 80 miles
offshore Puerto Cortes. By the 20th, the system became a non-covective remnant low only 60 miles
offshore Baja California. Below is a track of the storm, created by the National Hurricane Center.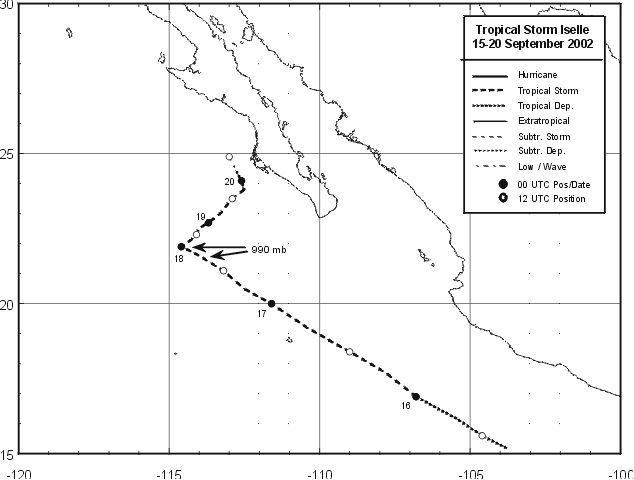 The rainfall graphics below use data supplied by the Comision Nacional del Agua, part of the Mexican
National Weather Service. The heavier amounts fell along the interior of the peninsula before the time of
closest approach.