Tropical Storm Ivo - September 9-15, 2001

A large tropical wave moved off the African coast on August 26th. It emerged into the eastern Atlantic with
a large circulation by the 28th. Its northward portion moved through the eastern Atlantic. Its southern portion
continued to the west with little thunderstorm activity. Shower activity renewed with the wave as it entered the
western Caribbean sea on the 5th. Organizing as it crossed Central America and southern Mexico, it became
a tropical depression soon after emerging over water south of Acapulco early on the 10th. A large system, the
cyclone continued to develop reaching tropical storm strength that night. It moved northwest over cooler waters,
which halted development. By late on the 14th, Ivo became devoid of convection and a remnant area of low
pressure. Below is its track, supplied by the National Hurricane Center.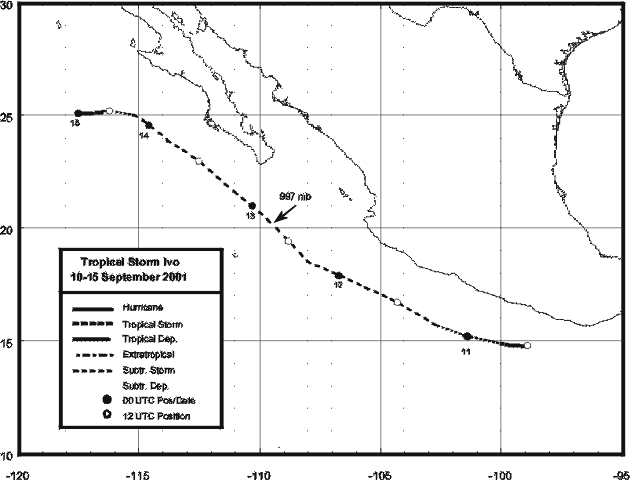 The graphics below show the storm total rainfall for Ivo, which used rainfall information from the Comision
Nacional del Agua, which contains Mexico's National Weather Service. The maximum in eastern Mexico
was caused by a persistent band of inflow/feeder band into the Sierra Madre Oriental. The maximum over
Northwest Mexico was caused by an upper low moving through the Rockies which pulled Ivo's moisture
northeast into the region.