Tropical Storm Javier - September 4-14, 1998
A tropical wave moved off the coast of Africa on August 22nd. It northern portion remained in the Atlantic
and led to the formation of Hurricane Danielle. The southern portion of the wave moved westward as a very
weak feature through the tropical Atlantic, Caribbean Sea, and Central America. Moving south of Acapulco
on September 3rd, it led to the development of deep convection as it entered a broad monsoon gyre. Becoming
better organized, it developed into a tropical depression on the 6th and a tropical storm on the 7th as it moved
west-northwest. East to northeast wind shear hindered further development. Beginning on the 9th, the cyclone
began to exhibit a weak bursting pattern, with convection occasionally reappearing over its center of the
then tropical depression which began moving back to the east towards Mexico. On the 12th, thunderstorms
remained near the center long enough to develop the system back into a tropical storm. Just before landfall,
convection became more intermittent and the system regained tropical depression intensity. The cyclone
drifted inland near Cabo Corrientes on the 14th. Below is a track of the cyclone, prepared by the National
Hurricane Center.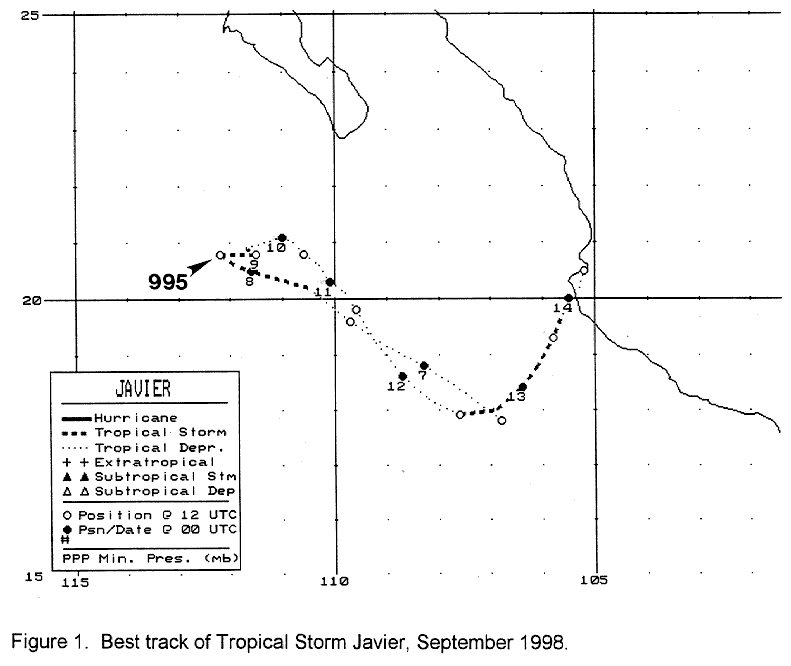 Below are the storm total graphics for Javier. The absolute maximum on land fell near the point of landfall.
Data for the maps was obtained from the Comision Nacional del Agua, the parent agency of Mexico's National
Weather Service.