Hurricane Jerry - October 12-18, 1989
On September 23rd, a westward moving tropical wave emerged from the northwest coast of
Africa. The wave moved westward through the tropical Atlantic and Caribbean with no signs
of development. The wave movement slowed over the Yucatan peninsula on the 12th, where a
broad surface low formed. Late on the afternoon of the 12th, reconnaissance aircraft confirmed
the development of the 14th depression of the season about 200 miles east-northeast of Vera Cruz.

The depression moved slowly north-northwest, strengthening into a tropical storm on the 13th.
Steering currents weakened on the 14th when an upper trough approached from the west, which
caused a jog to the north-northeast. Later that day, an upper low closed off west of Jerry which turned
the storm back to the north-northwest. As Jerry moved north of the upper low, a favorable upper level
pattern developed over the storm and Jerry strengthened into a hurricane by the afternoon of the 15th.

The center of the hurricane made landfall near Jamaica Beach, Texas on the evening of the 15th as
a category one hurricane. Once over land, Jerry rapidly accelerated northeast to east into the Tennessee
and Ohio Valley ahead of a frontal zone. By the 18th, the low that was once Jerry had become a frontal
wave offshore southern New England.

Below is the track of this storm, provided by the National Hurricane Center.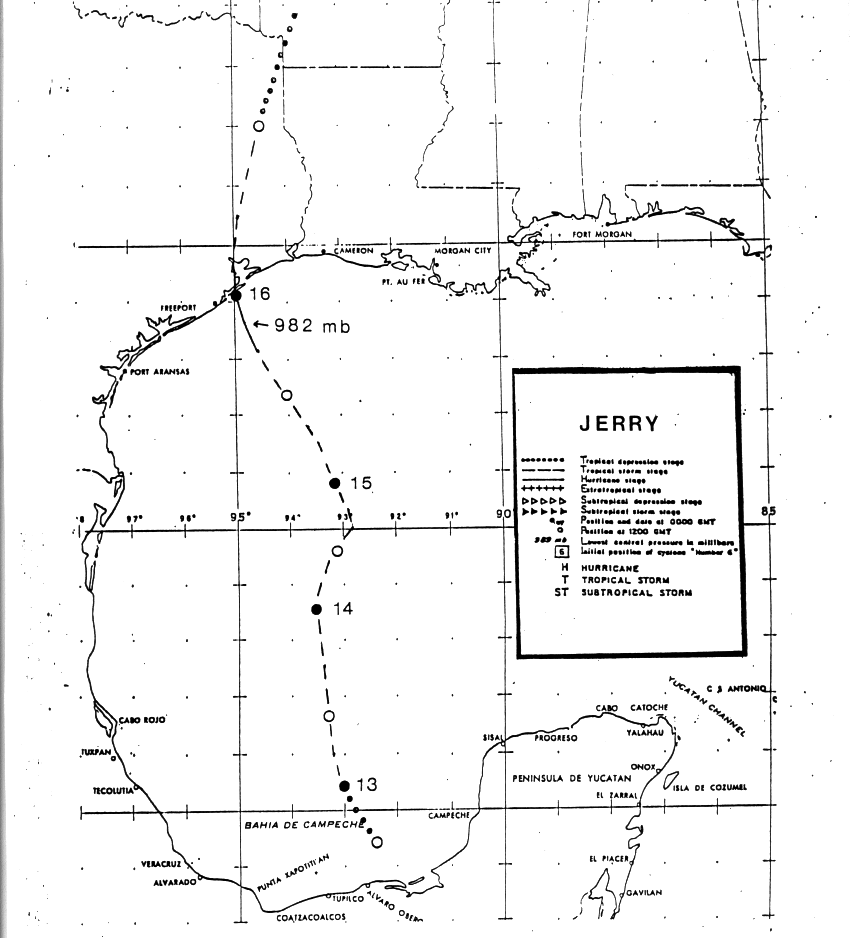 The storm total rainfall maps below were constructed using data from the National Climatic Data Center. The
heaviest rains in Jerry occurred as it focused rainfall onto a draping front to its northeast. Right near the point
of landfall, the highest rainfall amount was 6.40 inches at Silsbee, Texas.