Hurricane Joan-Miriam - October 23-26, 1988
The initial disturbance which led to this cyclone's development moved off the coast of Africa on October 5th.
The system moved westward without note until the 9th when the convective system began to detach from the
Intertropical Convergence Zone. By the afternoon of the 10th, the system became a tropical depression, the
17th of the season. Late that night the system became a tropical storm named Joan. Moving westward, the
cyclone began to weaken as it approached the Windward Islands. The cyclone moved across Grenada, and
slowly developed as it grazed the coast of South America, the first to track so far south since 1971. The cyclone
moved across Curacao, the Paraguana peninsula of Venezuela, and the Guajira peninsula of Columbia. After
clearing the Columbian peninsula, Joan strengthened into a hurricane. The cyclone transcribed a loop about
130 miles north of Panama City, Panama on the 20th. Tropical Depression #18 may have helped contribute to
this motion.

Strengthening resumed after the loop, and Joan became a category 4 hurricane to the east of Bluefields,
Nicaragua. Moving acorss Nicaragua on the 22nd and early on the 23rd, the cyclone remained well-
organized and at tropical storm strength as it emerged into the eastern Pacific ocean. The system was
named Miriam upon entering the Pacific, and moved just offshore El Salvador and southern Guatemala
before upper level shear weakened the tropical storm with the system dissipating as a tropical cyclone about
300 miles south of Acapulco on the 28th. Below is the track of this cyclone, provided by the National
Hurricane Center.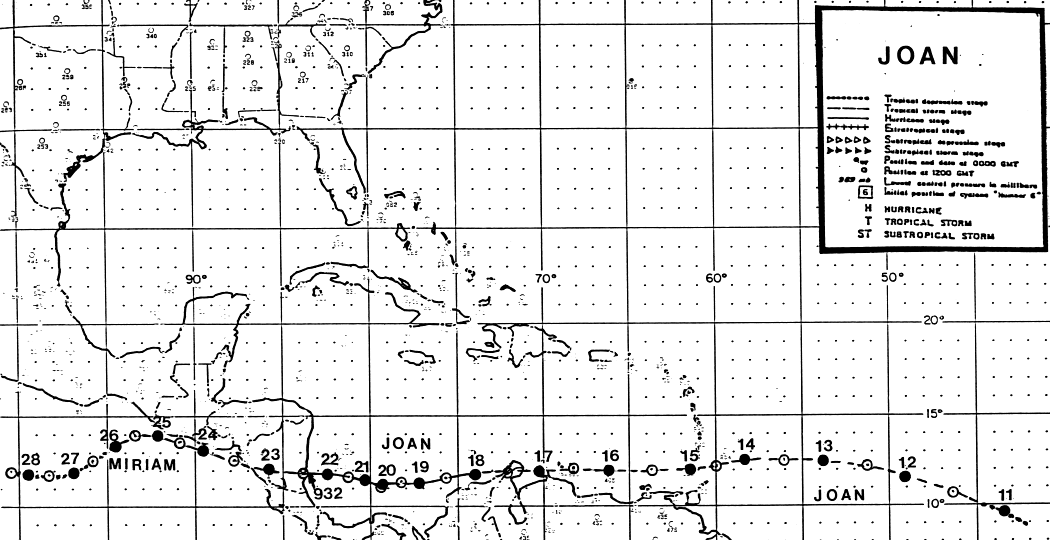 The graphics below show the storm total rainfall for Joan/Miriam. Note the maxima over the Yucatan Peninsula
and extreme southeast Mexico, which occurred under inflow bands to the northeast of the cyclone. Rainfall data
was provided by the Comision Nacional del Agua, the parent agency of Mexico's National Weather Service.