Hurricane Juliette - September 25-October 3, 2001

The tropical wave that produced Tropical Depression #9 in the western Caribbean Sea also led to the formation
of this cyclone. The remains of the tropical depression and its parent tropical wave moved across Central
America on September 20th. About 90 miles south of Guatemala, a new tropical depression developed early
on the 21st. For the next five days, the system moved west-northwest and strengthened. By the 23rd, it had
evolved into a hurricane, and the 24th, a major hurricane. Juliette went through concentric eyewall cycles
through the 27th, leading to fluctuations in strength. A strong trough offshore the Western United States dug
to the southeast, leading Juliette to turn more towards the north and slowly weaken. The center passed west
of Cabo San Lucas on the 28th a a category one hurricane. On the 30th, Juliette made landfall near San Carlos
as a weakening tropical storm. The cyclone lingered over the Gulf of California for another few days as a tropical
depression, dissipating over the northern Gulf of California. Below is its track, provided by the National Hurricane
Center.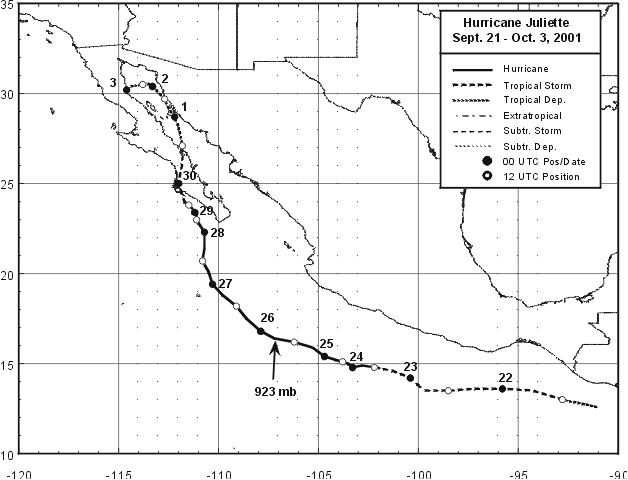 The storm total graphic for this cyclone is below. Juliette is one of the wettest tropical cyclones in the meteorological
history of northwest Mexico. Rainfall data was supplied by Miguel Cortez of the Comision Nacional del Agua,
parent agency of Mexico's National Weather Service.