Hurricane Keith - October 1-8, 2000

A tropical wave moved offshore the African coast on September 16. It slowly organized between the 19th
and 22nd, but strong vertical wind shear hindered development. As it moved through the Caribbean Sea on
the 27th, the system became better organized and by the afternoon of the 28th, a tropical depression had formed
just northeast of Cape Gracias a Dios, Nicaragua. By the next afternoon, it had become a tropical storm. Rapid
intensification ensued, and Keith became a hurricane on a major hurricane on the 30th. Turning more to the
west and slowing down, Keith weakened into a minor hurricane just prior to striking northern Belize on the
afternoon of the 2nd and into a tropical storm later that evening as it entered Mexico. Moving west-northwest,
the cyclone emerged into a Bay of Campeche as a tropical depression on the 4th. Once over water, Keith
restrengthened into a tropical storm and minor hurricane before landing 20 miles north of Tampico on the
afternoon of the 5th. The surface circulation dissipated as it moved through northeast Mexico on the 6th, and
its cloud pattern lifted northward into Texas over a frontal boundary over the succeeding couple days.
Below is its track, supplied by the National Hurricane Center.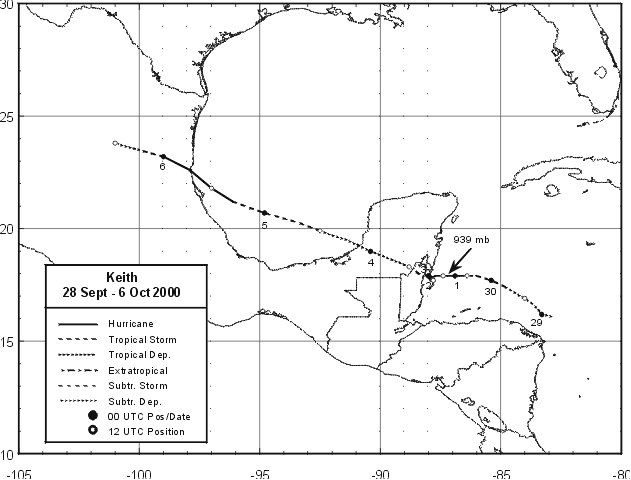 The graphics below show the storm total rainfall for Keith, which used information from the Comision del
Agua, which is the parent agency of Mexico's National Weather Service.