Hurricane Kenna - October 24-26, 2002

A tropical disturbance moved across Central America on October 19th, which may have been associated
with a tropical wave that passed Barbados late on the 14th. After emerging into the Pacific ocean, the system
slowly organized. It became a tropical depression 325 miles south of Acapulco late on the 21st, and tropical
storm strength by midnight. Turning west-northwest, development halted. By the 23rd, large outer rainbands
weakened enough to allow the core of the storm to strengthen, leading to hurricane intensity by morning about
400 miles south of Cabo Corrientes. Turning northwest and north at a slower foreward motion, Kenna reached
its maximum intensity early on the afternoon of the 24th as a category 5 hurricane. A large trough west of Baja
California turned Kenna towards mainland Mexico, and on the morning of the 25th, Kenna struck San Blas as
a category 4 hurricane and weakened rapidly over mountainous Mexico, becoming a tropical storm by evening,
with the surface low dissipating just past midnight on the 26th. The remains of Kenna moved into the northwest
Gulf of Mexico and enhanced rainfall in the southeast United States. Below is its track, provided by the
National Hurricane Center.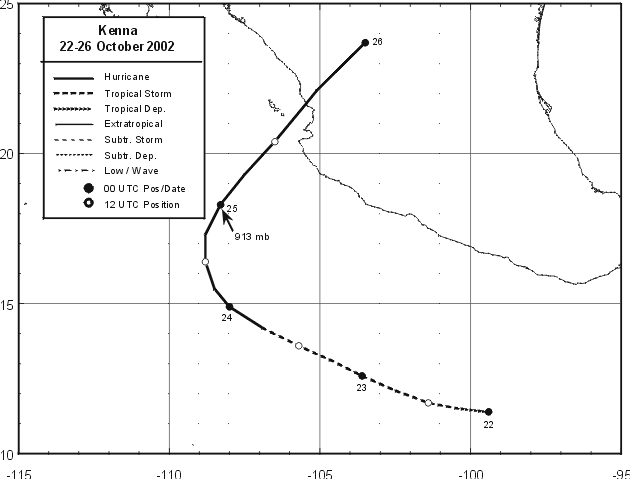 The storm total graphic for this cyclone is below. Rainfall data was supplied by Miguel Cortez of the Comision
Nacional del Agua, parent agency of Mexico's National Weather Service.