Tropical Storm Lorena - October 2-5, 2001

A weak tropical wave moved off the coast of Africa on September 13th. Moving across the deep tropics of the
Atlantic and Caribbean, it passed through Central America on September 27. After emerging into the eastern
Pacific, the system gained convection. By the 30th, a well-defined low formed and it became a tropical depression.
By the 2nd, it had become a tropical storm well south of Mexico. The system began to turn to the northeast due
to an upper trough to its northwest. Lorena peaked as a moderate tropical storm on the 3rd before turning more to
the north and experiencing southwest wind shear. Over the next day or two, Lorena lost its central thunderstorm
area and devolved into a remnant low just southwest of Manzanillo. Below is its track, supplied by the National
Hurricane Center.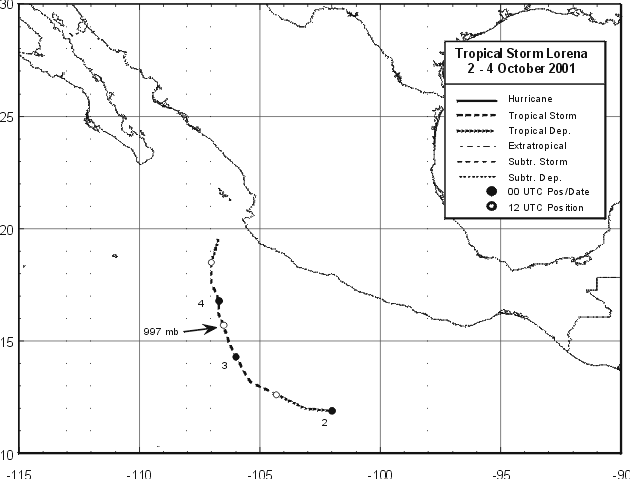 The graphics below show the storm total rainfall for Lorena, which used rainfall information from the Comision
Nacional del Agua, which contains Mexico's National Weather Service. Rainfall amounts were light, as the
system was small and lost its central convection before striking land.