Tropical Storm Miriam - September 14-18, 2000

A weak tropical wave moved off the coast of Africa on August 29. Briefly attempting development
on September 2, it moved across northern South America into the tropical eastern Pacific on the 9th.
The wave interacted with a broad low pressure area south to southwest of the Gulf of Tehuantepec,
which then progressed northwest. On the 15th, it had organized into a tropical depression about 250
miles south-southeast of Cabo San Lucas. The system turned northward in response to an upper cyclone
to its north, which ultimately led to its dissipation as a tropical cyclone on the morning of the 17th. The
remnant disturbance moved through the central Gulf of California, and died off as it moved into northern
Baja California. Below is its track, supplied by the National Hurricane Center.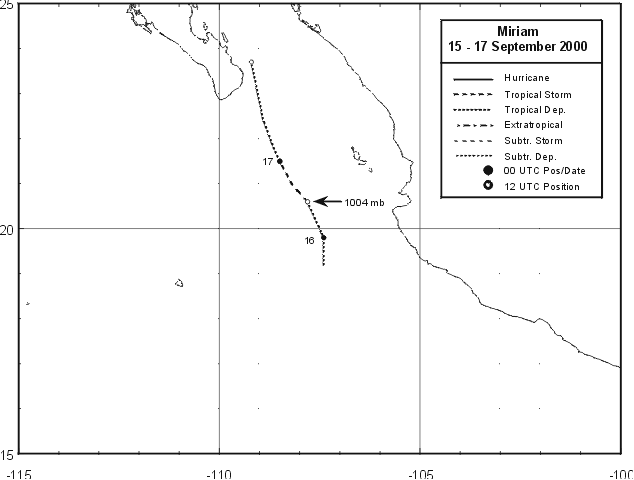 The graphics below show the storm total rainfall for Miriam, which used information from the Comision Nacional
del Agua, parent agency of Mexico's National Weather Service. An upper cyclone to its north spread the heavy
rainfall just inland into west-central Mexico, which led to the highest amount recorded. The maximum in Baja
California closer to its center was slightly less.