Hurricane Mitch - November 4-5, 1998
A tropical wave moved off the coast of Africa on October 8th. It passed harmlessly westward for
the next week, progressing through the tropical Atlantic as winds aloft remained unfavorable for
development. On the 20th, a tropical distrubance began to organize in the south-central Caribbean
Sea. When reconnaisance aircraft went out to investigate the system on the 21st, they discovered
a tropical depression. Tropical storm force was attained on the 22nd, while moving in a stairstep
track across the western Caribbean. Once Mitch resumed its westward motion on the 24th, it
strengthened into a major hurricane, becoming the fourth lowest pressure measured in a tropical
cyclone in the Atlantic Basin. It weakened as it moved closer to Central America and interacted
with land, weakening back into a tropical storm on the 30th, and a tropical depression on the 31st.
Its surface center weakened as it moved over Central America, but its vorticity maximum aloft
survived. Once it reached the waters of the Gulf of Mexico on November 2nd, it quickly became
a tropical storm once more, and began to accelerate northeastward ahead of a cold front. It moved
across the Yucatan peninsula on the 4th, and through the Sunshine State on the 5th as it became
extratropical. This extratropical cyclone raced across the Atlantic, reaching Europe on the 9th.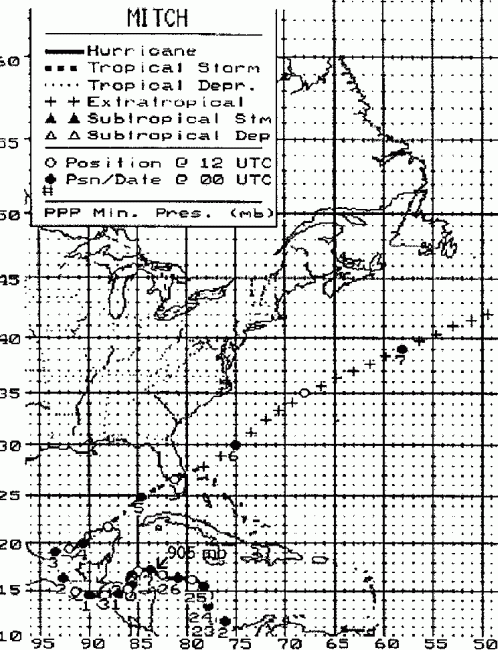 The graphics below show the storm total rainfall for Mitch. Note the maxima across southeast
Florida, which coincides with the area of best inflow into the center, to the right of the track
during the early morning hours of the 5th. It should be noted that much of this rainfall fell in
only a 24 hour period. Data from the United States was provided by the National Climatic Data
in Ashveille, North Carolina. Mexican data was provided by their Comision Nacional del Agua, the
parent agency of Mexico's National Weather Service.


Below is the calendar for Daily Precipitation Maps. Note that the 24-hour periods end
at 12z that morning.
| | | | | | | |
| --- | --- | --- | --- | --- | --- | --- |
| Sun | Mon | Tue | Wed | Thu | Fri | Sat |
| | | | | 5 | 6 | |