Hurricane Roxanne - October 9-21, 1995

As early as October 6, a broad cyclonic circulation formed between the Cayman Islands and Honduras
along the tail of an old frontal boundary. A tropical wave moved across the Caribbean Sea, becoming
convectively active on the 4th, and interacting with the area of broad low pressure by the 7th. Diffluent
northerly flow over the system led to further development, and convective banding improved. By late on
the 7th it had become a tropical depression east of Nicaragua. By late the next day, it became a tropical
storm which was moving northward towards the Yucatan channel. After turning westward, hurricane
strength was achieved on the 10th. Becoming a major hurricane by mid-afternoon on the 10th, the
cyclone struck the Yucatan peninsula and tracked westward into the Bay of Campeche while retaining
hurricane strength. Briefly weakening to a tropical storm, it became a hurricane again by the 14th before
transcribing an anticyclonic loop and weakening back into a tropical depression. Weakening over upwelled
waters from its previous passage over the region, Roxanne eventually sunk south-southwest into Mexico
ahead of an advancing cold front. Below is its track, supplied by the National Hurricane Center.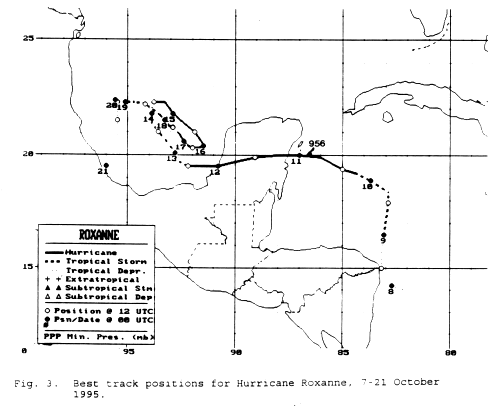 The graphics below show the storm total rainfall for Roxanne, which used information from the Comision
Nacional del Agua, parent agency of Mexico's National Weather Service.