Tropical Depression 03E - July 10-15, 1999
A tropical wave moved offshore the western African coast on July 3rd. The system moved westward across
the tropical Atlantic, moving into the Caribbean sea on the 8th. As it entered the western Caribbean sea on the
10th, the wave became well-defined and convection became substatially better organized. A low pressure area
formed with the area of disturbed weather shortly before it made landfall in Honduras. The low moved near
the northern coast of Honduras through southern Belize and southeast Mexico, emerging into the eastern
Pacific ocean on the 12th. Once the system moved away from the Mexican coast on the 13th, the system became
better organized once more and was designated a tropical depression by the morning of the 14th west of
Manzanillo, around the same time its rainfall impact on Mexico was ending. The system moved westward,
dissipating on the 15th southwest of Cabo San Lucas. Below is its track, provided by the National Hurricane
Center.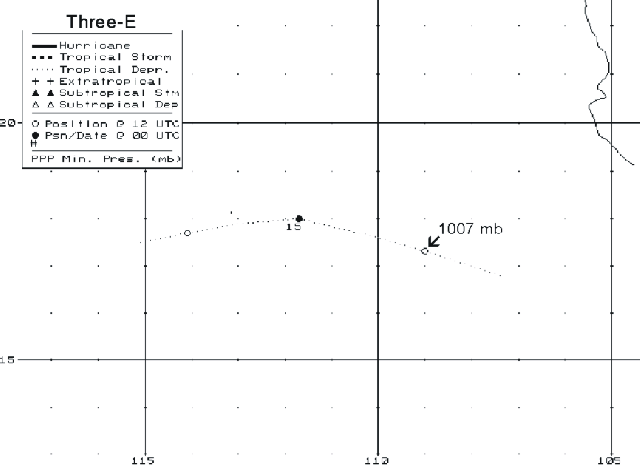 The graphics below show
the storm total rainfall for Tropical Depression 03E. Rainfall data was provided by the Comision Nacional
del Agua, the parent agency of Mexico's National Weather Service.