WPC Event Review/Winter Storm Archive (Prototype)
---
Menu is populated with significant winter weather events as they occur.
*Indicates WPC has written an event review for this date.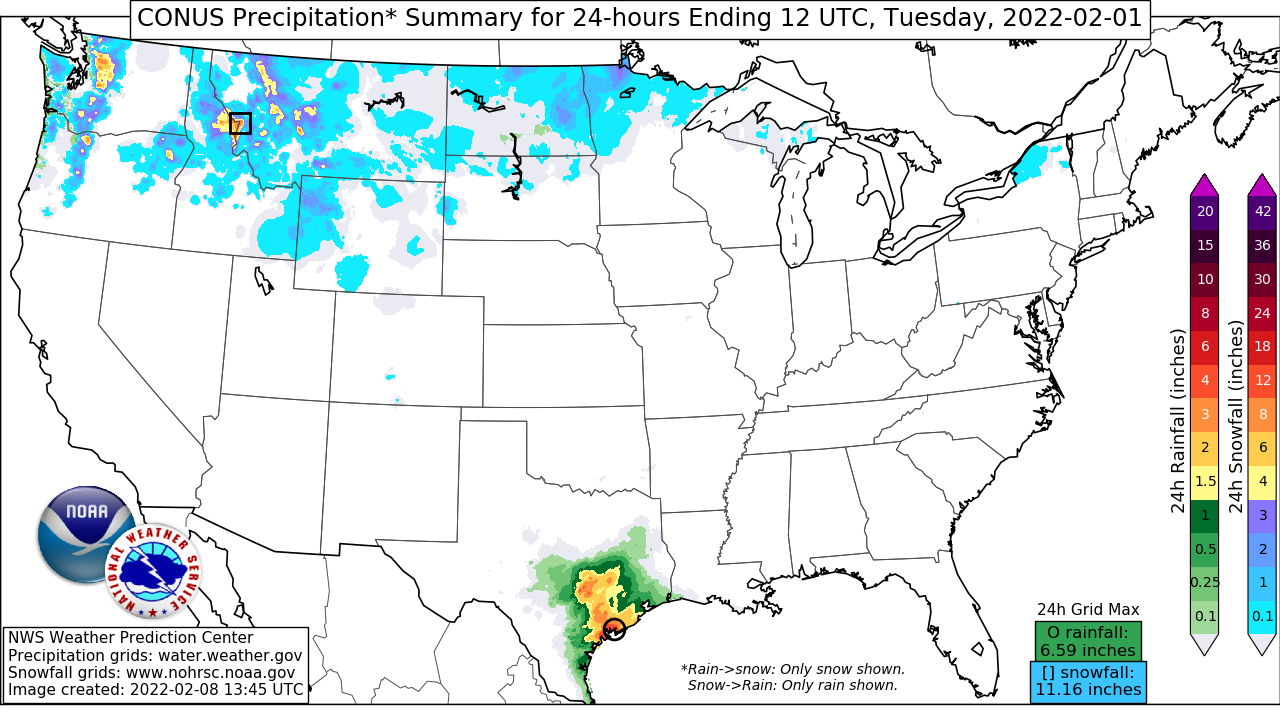 Rockies, Great Plains, Mississippi/Ohio Valleys, & Northeast Major Winter Storm: (2/1 - 2/4)
By: Peter Mullinax, WPC Meteorologist
---
Meteorological Overview:
This winter weather marathon that produced an expansive area of disruptive snow and ice accumulations began late in the day on February 1. WPC's Winter Weather Outlooks identified this potentially lengthy winter storm as late as seven days out, although the positioning of the heaviest swath of snowfall would meander at times based upon subtle shifts in ensemble guidance that came into better consensus by the end of January. An upper trough over the Intermountain West deepened as a result of strong upper level ridging upstream in the northwest Pacific. This ridging pattern worked in tandem with a lobe of the tropospheric polar vortex over northern Canada to direct a dome of Arctic high pressure into the northern United States, supplying a fresh injection of bitterly cold temperatures into the central U.S.. At 250mb a pair of jet streaks, one over the Upper Midwest and another in the Desert Southwest positioned the central Rockies in a favorable position for strong vertical ascent. This combined with a fetch of subtropical moisture and upsloping low level flow fostered an environment that supported periods of snow throughout the central and southern Rockies. By the early morning hours of February 2, the aforementioned jet streaks became oriented in a classic "kissing jets" setup atop the Middle Mississippi Valley, meaning the divergent quadrants of each jet streak aligned in a manner that supported robust vertical ascent within the atmosphere. This setup along with warm air advection and isentropic lift ahead of the upper trough led to blossoming areas of precipitation over the Mississippi Valley the night of February 1 and into the morning of February 2.
Later in the day on February 2, an upper level vorticity maximum in the Northwestern U.S. phased with a southern disturbance tracking through northwest Mexico. Meanwhile, the long wave trough in the West was tapping into subtropical East Pacific moisture embedded within southwesterly mid-level winds aloft. Farther east, a dome of high pressure in the northwest Atlantic was also directing Gulf of Mexico moisture northward. This large scale south-southwest flow aloft was overrunning the Arctic front that was draped southwest to northeast from central Texas to the Great Lakes around 12Z February 2. This led to a classic "overrunning" precipitation setup where temperatures at the surface and very lowest levels of the boundary layer were subfreezing, while a nose of above freezing air aloft was layered on top. This supports the development of sleet and/or freezing rain depending on the depth of the warm nose and low level sub-freezing layer. Farther north of the front where the atmospheric column remained below freezing, periods of snow broke out from north Texas and the Middle Mississippi Valley to the central Great Lakes. Snow fell heavily from the Guadalupes of West Texas and southern New Mexico to southern Michigan. The heaviest snowfall totals came in the southern Rockies as a reporting station near Taos Ski Valley, New Mexico reported 37 inches of snow. Meanwhile, treacherous ice accumulations transpired from North Texas and the Ozarks into the Ohio Valley.
By February 3, a deepening upper trough was emerging out of the Four Corners states and the right entrance region of a 250mb jet streak was positioned over the Mississippi Valley. There was no shortage of water vapor to tap into as the 850-700mb integrated vapor transport was observed with origins from both the tropical East Pacific and the Gulf of Mexico. This resulted in copious amounts of precipitation, whether it fell in the form of rain in the Deep South or heavy snow from the lower Great Lakes to northern New England. There was still a significant icing component to this long and drawn out winter storm with sleet and freezing rain causing its own slew of problems from central Texas and the Memphis metro area to the Upper Ohio Valley and northern Mid-Atlantic. The northern Mid-Atlantic actually started off as primarily rain but a cold front ushered in subfreezing low level temperatures by that evening. The arrival of subfreezing low level temperatures led to the transition to all snow in northern New England and an icy mix of sleet and freezing rain in central New England. By 12Z February 4, there was still a noticeable above freezing layer at 850mb in parts of Pennsylvania and into central New England while temperatures near the surface were still well below freezing. This forced disruptive sleet and freezing rain accumulations to continue in these areas the morning of Feb 4 while snow fell heavily in northern New England.
The winter storm began to wind down by February 4 but the right entrance region of the 250mb jet streak, steady positive vorticity advection directed at the Northeast, and a seemingly endless supply of low-mid level moisture kept precipitation funneling over the Northeast and as far south as the central Appalachians. A cold dome of high pressure anchored over Quebec kept the subfreezing air locked in over New England, where the heaviest snowfall was located for the date. By the time the event was over, portions of Maine, New Hampshire, and Vermont received anywhere from 12 to 17 inches of snowfall. In places where the aforementioned low level warm nose forced sleet to fall, as much as 5 inches of sleet fell in Eastport, Maine. By the time the storm had finally departed, it left a path of snowfall accumulations in excess of a foot stretching from Missouri to Maine.
Impacts:
Ahead of the winter storm, states that declared a State of Emergency included Oklahoma, Arkansas, Missouri, Illinois, Indiana, and Kentucky. In terms of records, Springfield, Missouri reported 9.5 inches of snowfall, which heavily contributed to making February 2022 the snowiest month for the city since February 2015. In Fayetteville, Arkansas, a reported 9.4 inches fell, making it the snowiest month the city has witnessed since February 2011. Snowfall amounts exceeding 12 inches were common in the higher elevations of Colorado and New Mexico. The primary swath of snowfall accumulations exceeding 12 inches started in northern Missouri and spanned northeast all the way to Maine. Regarding ice accumulations, anywhere from a quarter to a half inch of ice was reported from Texas to southern New England. According to the final WPC Storm Summary for this event, some locations measured a dangerous three-quarters of an inch in locations such as northeast Texas, northwest Tennessee, and northeast Pennsylvania.
There was no shortage of impacts from this winter storm which caused numerous travel delays and cancellations, both on the ground and through the air, from the Rockies to the East Coast. A couple days before the storm arrived in Ohio, the Ohio Turnpike was closed to all high profile vehicles from 7AM February 2 to 12PM February 4. To highlight some specific incidents, first responders in Austin, Texas responded to roughly 300 incidents in a 24 hour span between the morning of February 2 and the morning of February 3. Near Memphis, Tennessee, a multi-car accident involving 16 vehicles was reported by the Memphis Fire Department with 6 individuals being transported to the hospital. Ice Storm Warnings were posted for parts of western Kentucky that were also hit by deadly tornadoes back on December 10, 2021. The dangerously icy weather caused FEMA Disaster Relief Centers in western Kentucky to be closed until the weekend of February 5-6. A section of I-70 in central Missouri was closed on February 2 due to terrible road conditions that resulted in many travel accidents.
When it comes to air travel, the days with the most flight cancellations were between February 2-4. Totaling up all three days worth of cancellations, there were over 11,500 flights cancelled according to FlightAware. The day with the most flight cancellations was Thursday, February 3 with over 5,200 reported. There were also hundreds of thousands of customers without power stretching from the Southern Plains to the Northeast. Thursday, February 3 at one point had as many as 275,000 customers without power with the hardest hit areas being parts of the Mid-South. The metro area with the most power outages was in Memphis, Tennessee where breezy winds and multiple hours of freezing rain producing ice accumulations of 0.3" to 0.7" led to widespread power outages and many downed trees. Schools were closed from the Southern Plains to the Northeast with some school districts closed for multiple days. Shipping routes by freight and air were disrupted for both USPS and other shipping companies. While there wasn't a widespread severe weather threat, February 3 was the most active day with one particular tornado tracking through west-central Alabama. The tornado hit near the town of Tishabee where it injured eight people and caused one fatality.
Click here to view the old event review webpage (2010-2018).