WPC Event Review/Winter Storm Archive (Prototype)
---
Menu is populated with significant winter weather events as they occur.
*Indicates WPC has written an event review for this date.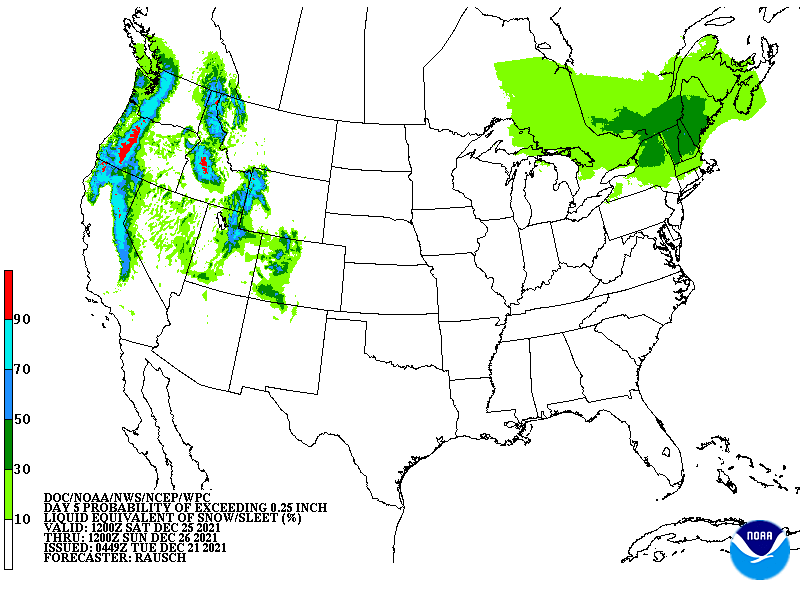 Northern Plains and Upper Midwest Winter Storm (12/25-12/27)
By: Frank Pereira, WPC Meteorologist
---
Meteorological Overview:
A pair of winter storms that produced areas of heavy snow and blizzard conditions disrupted the holiday plans for many individuals in North Dakota and Minnesota from December 25 to 27, 2021.
On Friday, December 24, a strong cold front pushed south through the region. Behind the front, high pressure centered over central Canada extended south into the north-central U.S. It was a cold Christmas morning across the northern Great Plains and Upper Midwest, with temperatures in the teens and single digits reported across much of the region. With cold air in place, the initial round of snow developed with the passage of a low-amplitude upper-level shortwave trough across the region. Favorable upper jet forcing and low-to-mid level frontogenesis helped support the development of light to moderate snow over the western Dakotas overnight before shifting east into the eastern Dakotas and Minnesota by late Christmas morning. Observers reported snowfall accumulations of 3 to 6 inches from south-central North Dakota to central Minnesota.
Following a brief lull Christmas night, snow redeveloped across portions of the Dakotas the following morning, Sunday, December 26. Increasing upper-level divergence and low-level warm advection ahead of an amplified trough in the Northwest helped support a developing band of snow that initially extended from central North Dakota into southeastern South Dakota. As the band shifted farther northeast during the afternoon and evening, mesoanalysis suggested that increasing low-level frontogenesis and reduced or negative stability contributed to the development of heavy snow within the band.
Late Sunday and continuing into Monday morning, December 27, this band moved northeast, impacting portions of northern Minnesota, northern Wisconsin, and Upper Michigan. Meanwhile, a negatively-tilted upper trough developed over the northern Great Plains. At the surface, low pressure amplified in the lee of the northern Rockies before tracking east across Wyoming into western South Dakota on Sunday. Supported by low-to-mid level frontogenesis and upper-level divergence, light to moderate snow developed north of the low pressure center. The surface low tracked northeast into Minnesota on Monday, with light to moderate snow spreading across North Dakota into Minnesota. Ahead of the low, easterly winds promoted the development of lake-enhanced snow showers that contributed to heavy accumulations along the North Shore of Lake Superior. West of the low, strong winds developed, gusting to 40 to 50 mph across portions of North Dakota and northern Minnesota, creating whiteout conditions across the region. By late Monday, snow began to diminish across much of the area as the low weakened and tracked east across Lake Superior.
When the snow ended, observers from central North Dakota to Upper Michigan reported widespread additional totals of 4 to 8 inches, with locally heavier amounts. Observed amounts of 6.4 inches at Grand Forks University and 5.9 inches at Grand Forks International Airport on December 27 were both daily records for that date. Observers reported total event accumulations of a foot or more in several locations. These included Bismarck, ND (12 inches), Grand Marais, MN (13 inches), Brainerd, MN (15 inches), and St. Mathias, MN (18 inches).
Impacts:
The storm was particularly impactful for post-Christmas motorists traveling across eastern North Dakota and northern Minnesota. Officials issued no-travel advisories for the Red River Valley and portions of south-central North Dakota. On Sunday, December 26, officials closed Interstate 94 from Bismarck to Fargo and Interstate 29 from Grand Forks to the South Dakota border due to poor visibility and road conditions. Those highways remained closed until Monday, December 27. Highways in northwest Minnesota were partially or fully snow-covered but remained open. Police and emergency crews from across the area responded to numerous stranded motorists who attempted to travel despite the advisories. The Minnesota State Patrol reported that it responded to nearly 200 crashes, including eight jackknifed tractor-trailer trucks, on state highways between noon Sunday and Monday morning. Earlier in the weekend, the Minnesota State Patrol reported that nearly fifty vehicles, including several tractor-trailer trucks, were involved in a pileup amidst snowy conditions on Interstate 94 in the western portion of the state. Most flights at the Bismarck Airport remained on time; however, many flights at both Hector International in Fargo and Minneapolis St. Paul Airport were either delayed or canceled.
Click here to view the old event review webpage (2010-2018).