WPC Event Review/Winter Storm Archive (Prototype)
---
Menu is populated with significant winter weather events as they occur.
*Indicates WPC has written an event review for this date.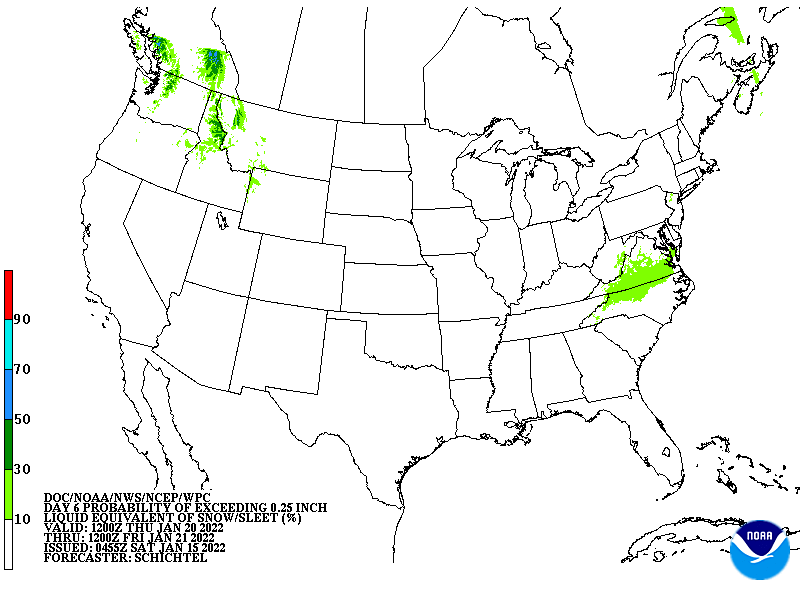 Tennessee Valley to Southern Mid-Atlantic Winter Storm (1/20 - 1/21)
By: David Hamrick, WPC Meteorologist
---
Meteorological Overview:
A low pressure system developed off the Outer Banks of North Carolina during the afternoon and evening hours of January 21st along a quasi-stationary frontal boundary situated a couple hundred miles offshore. Two individual shortwave perturbations within a broader positively tilted upper level trough interacted and began to merge as the trough axis reached the East Coast by the 22nd. Behind the boundary, a large 1040 mb Canadian surface high ushered in an arctic air mass with temperatures cold enough for widespread wintry precipitation farther south than usual. This same high pressure and the dry low level air associated with it prevented this storm from tracking up the East Coast towards New England, and even though the low was slow to intensity upon exiting the region, the synoptic scale ascent associated with it was enough for a significant winter storm for much of the piedmont and coastal plain of the Carolinas, and also for the Hampton Roads region of Virginia and southern portions of the Delmarva Peninsula.
This storm brought a swath of moderate to heavy snow from central North Carolina to southeastern Virginia, with some locations reporting on the order of 5 to 7 inches. The cities of Virginia Beach and Elizabeth City, NC, had the highest totals of around 7 inches. The most intense snowfall rates, locally in excess of one inch per hour in mesoscale banding, was observed between 11 pm and 5 am near the VA/NC border (close to Virginia Beach), where there was some slantwise instability present as evidenced by negative equivalent potential vorticity (EPV). Accumulating snow was also reported well into central South Carolina, with parts of the greater Columbia metro area receiving up to 2 inches. However, there was a rather sharp northern edge of the accumulating snow, with very little reported north of Richmond, VA.
Closer to the coast, significant freezing rain made weather headlines across southeast North Carolina as an elevated warm layer developed with 850-925 mb temperatures rising above freezing. Ice accretion of up to half an inch was reported across the towns of Swansboro and Richlands, where the best combination of prolonged light to moderate freezing rain and sustained cold air advection below the inversion existed.
Impacts:
This winter storm led to hazardous driving conditions and led to some disruptions to local businesses on Jan. 22. Since this was on a weekend, this did not have a major impact on schools. This was the most significant snowfall event across this general area since January of 2018. This was enough to cause over 12,000 power outages from downed trees and powerlines in eastern North Carolina, and multiple bridges in the area had to be temporarily closed. This was the first time the Morehead City office of the National Weather Service has issued ice storm warnings, and the biggest ice event since the 1990s for these areas. There were also reports of one to two tenths of ice accretion across portions of northeast South Carolina. Mainly rain fell on the Outer Banks.
Click here to view the old event review webpage (2010-2018).