WPC Event Review/Winter Storm Archive (Prototype)
---
Menu is populated with significant winter weather events as they occur.
*Indicates WPC has written an event review for this date.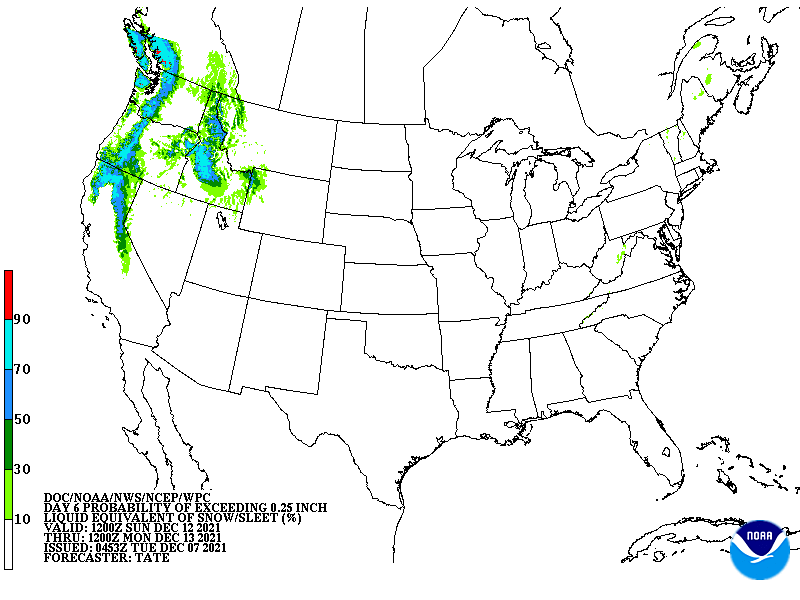 West Coast Atmospheric River: (12/11 - 12/14)
By: Peter Mullinax, WPC Meteorologist
---
Meteorological Overview:
An amplifying polar jet in the North Pacific along with a strong ridge of high pressure in the East Pacific worked to produce an Atmospheric River that directed rich subtropical Pacific moisture at the West Coast for multiple days in mid-December. The forecasts leading up to December 11 showed a signal for heavy snowfall in the Pacific Northwest as far out as 7 days as WPC Day 7 snowfall probabilities exceeding 0.25 inches were over 90% in the Cascades. In fact, WPC snowfall probabilities were as high as 90% as far south as Northern California at one point, suggesting forecast guidance was in good agreement showing a roaring Atmospheric River would cause significant impacts, both in snowfall and rainfall. The event began late in the day December 10 when anomalous mid-level moisture streamed out ahead of the deepening 500mb trough in the northeast Pacific. Large scale ascent combined with upsloping orthogonal flow into the Cascade Range and Olympic Mountains caused heavy rain and mountain snow to engulf much of western Washington. By the morning of December 11, 500mb heights crashed as the trough in the northeast Pacific approached and at low levels, the 12Z surface analysis showed a cold front acting as a source of convergence just off the Northwest coast. Heavy snow extended from the Cascade Range as far inland as the mountains of Idaho and western Montana. Periods of rain and mountain snow reached northern California later that evening.
On December 12, the West Coast was between storm systems as the first wave of low pressure responsible for the first round of Pacific moisture was weakening off the northern California coast. The persistent longwave troughing pattern off the West Coast, however, still fostered a favorable synoptic setup for producing a seemingly endless supply of Pacific moisture. The abnormally cold temperatures at mid-levels kept snow levels low in the Northwest as snow piled up from the Sierra Nevada to the Northern Rockies. Meanwhile, heavy rainfall piled up in and around the San Franciso Bay Area with rainfall totals in excess of 3 inches for the date. By December 13, a new and vigorous upper level disturbance rounding the base of the longwave trough in the northeast Pacific gave birth to a 994mb low off the coast of Northern California that was also in the midst of creating a potent cold front. This new storm system would dive far enough south in latitude to tap into an even richer source of subtropical moisture as the day went on. In terms of precipitation totals and impacts, December 13 would be the highlight of the Atmospheric River. The National Operational Hydrologic Remote Sensing Center (NOHRSC) snowfall grids estimated over 60 inches of snow fell in one day in parts of the central Sierra Nevada. Meanwhile, WPC had issued a Moderate Risk for Excessive Rainfall in Southern California. Rainfall totals exceeding 12 inches were estimated north of Santa Barbara, CA.
Farther north, more accumulating snowfall blanketed the mountain ranges of the Pacific Northwest and Northern Rockies. The winds were also a factor that day with widespread Wind Advisories across the Great Basin and High Wind Warnings along the coast of Southern California. The longwave trough axis would finally reach the Pacific Northwest the morning of December 14. A cold front was pushing across the Northern Rockies and Great Basin while the primary area of low pressure tracked into central California. The slug of subtropical Pacific moisture would span throughout the Intermountain West with widespread periods of snow from Montana all the way south to northern Arizona and southern California. In addition to the snow, blustery winds enveloped the West and excessive rainfall transpired in Southern California where WPC had a Slight Risk issued from Los Angeles to San Diego. By the time the storm system departed to the east, the Atmospheric River lasted a little over 3 days with AR conditions over the Bay Area lasting for more than 48 hours according to the Center for Western Weather and Water Extremes. This storm system would race east into the Great Plains by December 15 where it triggered a historic severe weather outbreak. More than 650 storm reports were calculated, stretching from Colorado and New Mexico to the Upper Midwest with the state of Minnesota reporting its first tornado in the month of December on record.
Impacts:
One of the more positive impacts was the Atmospheric River bringing much needed rainfall and mountain snow to the drought stricken West Coast. On December 7, much of California was under either Extreme or Exceptional drought conditions according to the U.S. Drought Monitor. Snowfall wise, according to the Center for Western Weather and Water Extremes, statewide snowpack increased from a mere 19% of normal on December 10 to 83% of normal by December 15. Some notable snow totals according to WPC's final Storm Summary for the storm system include 60 inches of snow near Pinecrest, CA. Idaho witnessed impressive snowfall totals as well with one location 5 miles southwest of Donnelly measuring 46 inches. Elsewhere, Summit Lake, OR reported 33 inches of snowfall and Swift Creek, WA measured 27 inches. However, too much of a good thing can be a bad thing when it comes to Atmospheric Rivers. Heavy snowfall rates and whipping winds led to whiteout conditions and road closures in impacted areas from the West Coast to the Intermountain West.
In addition, while rainfall was a welcomed sight to the West Coast, excessive rainfall rates were the catalyst for flooding, rock slides, and debris flows between the Bay Area and Monterey Bay. Daily precipitation records were broken in California December 13-14. Mount Tamalpais, CA reported 8.74 inches of rain while it is estimated that other locations along the California coastal range picked up as much as 10 inches. Rapid rises in creeks, streams, and rivers were common in the more heavily hit areas, especially where terrain and burn scar areas favored rapid runoff. According to the Center for Western Weather and Water Extremes, select portions of Highways 38 and 92 were closed due to flooding. Plus, multiple debris flows were reported in the Bond Fire burn scar in Silverado Canyon. The Monterey County OEM Services had announced Debris Flow Evacuation Warnings near the Dolan Fire burn scar. Lastly, damaging winds toppled trees and power lines throughout much of California causing power outages and damages to homes and businesses.
Click here to view the old event review webpage (2010-2018).